Vic-Maui Early Entries Reach 19 Boats; Strongest Fleet in Over a Decade
by Vic-Maui, September 16th, 2015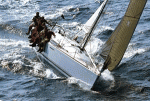 Shackles & Cotterpins - The Vic-Maui Newsletter
2016 Vic-Maui early-entries reach 19 boats; strongest fleet in more than a decade
Vic-Maui welcomes a total of nineteen early-entrants for the 2016 Vic-Maui:
Including a great cross-section of boat types:
Reichel Pugh 55, Transpac 52, Riptide 35-2,
seven Beneteau's including three First 40.7's,
three Jeanneau's, Tartan, Sabre, Nordic, J-Boat, Express and Cascade;


With boat names in order of entry, and profile links:


Red Sheilla

,

Kinetic

,

Salient

,

Kraken

,

Miles

,


Ion

,

Turnagain

,

Insignia

,

Expresso

,

Equus

,


Starblazer

,

CrossFire

,

String Theory

,

Amiskwi

,

Longboard

,


Mountain

,

Forty

,

Raindrop

,

Canard




Covering three disciplines:
15 racing class fully crewed, 2 racing class doublehanded, 2 cruising class
(class/division breaks will be determined later);


From 2 countries and 4 provinces and states:
12 Canadian and 7 American boats; hailing from ports in BC, AB, WA and OR;


Representing 10 clubs:
5 RVanYC, 3 WVYC, 2 Seattle YC, 2 Sloop Tavern YC, 2 Nanaimo YC,
1 each from Royal Rose City YC, Sidney North Saanich YC, Three Tree Point YC, Vancouver Rowing Club, West Sound Corinthian YC;


Ranging in length from 35 to 55 feet LOA;


The

Kinetic

team, skippered by RVanYC Vic-Maui Event Chair David Sutcliffe, will be sailing a Transpac 52 in place of the previously announced Beneteau First 47.7;
Profiles for each of the entered boats are online at www.vicmaui.org/teams.
Entries are open; the final entry deadline is February 3, 2016
Vic-Maui, first sailed in 1965, is celebrating its Half Century in 2016.


The early entry deadline was September 15, 2015. The final entry deadline is February 3, 2016. The fleet size limit is 25 boats.


Online entry for the 2016 Vic-Maui is open now at:

Official Notice Board and Online Entries

.


The Notice of Race has been published for the 2016 Vic-Maui International Yacht Race. It is available for download:

click here for Notice of Race

.


Appendix A to the Notice of Race has also been published. It is available for download:

click here for NoR Appendix A

.


Appendix B to the Notice of Race has been published. It is available for download:

click here for NoR Appendix B

.


We invite you to join the 2016 Vic-Maui fleet for Challenge • Adventure • Teamwork.
Featured Sponsor: North Sails
Sails • Sail Care
604-271-2111

The World Leader in Sailmaking: North Sails has become the world leader in sailmaking through an ongoing commitment to making sails that are faster, lighter and longer lasting than any other sails in the world. Whether you race or cruise, North Sails is committed to designing and building sails that are just right for you! When performance counts, the choice is clear.

Website: www.northsails.com


See more Vic-Maui Sponsors at the end of this newsletter.
Safety at Sea - Late 2015 & Early 2016 Schedule
The Fall 2015/Winter schedule has been confirmed for BC Sailing's Sail Canada - ISAF Approved Offshore Personal Survival Course.


A preliminary schedule has been posted for Winter/Spring 2016.


For more information, see Vic-Maui's info on

BC Sailing Safety at Sea

.

Vic-Maui on Facebook and Twitter
* * * * * * * * * *
Shackles & Cotterpins welcomes your feedback, comments and suggestions. You can contact us at shackles.editor@vicmaui.org. You can find a list of Vic-Maui contacts on our website. We look forward to hearing from you. Click here to unsubscribe.
* * * * * * * * * *
Victoria to Maui International Yacht Race
The Victoria to Maui International Yacht Race is hosted by the Royal Vancouver Yacht Club and the Lahaina Yacht Club. First contested in 1965 and sailed every second year since 1968, Vic-Maui is the pinnacle of Pacific Northwest ocean racing. Vic-Maui starts in July off Victoria, British Columbia and finishes near Lahaina, Maui, a distance of approximately 2308 nautical miles.
Vic-Maui challenges navigators to demonstrate their weather routing and navigational skills. Success depends on the navigator's skill in predicting where the Pacific High pressure zone and trade winds will be, nearly a week into the future.
The adventure includes sailing around the Pacific High and surfing downwind in the trades. The days pass quickly with the fleet surrounded by dolphins and albatross, spectacular sunrises, sunsets and brilliant starlit nights.
Teamwork gets the boats to the finish line near Lahaina, where each arriving boat is greeted with an outstanding Hawaiian welcoming party. Family and friends meet the racers to celebrate the accomplishment with hugs, leis and mai-tais. Many crew stay to spend more time enjoying Maui with their families before heading home.
Visit www.vicmaui.org for Challenge - Adventure - Teamwork!
* * * * * * * * * *
Hosts
Royal Vancouver Yacht Club • Lahaina Yacht Club
Gold
Greater Victoria Harbour Authority • Navis Marine Insurance • Pacific Yachting • Westerly Yachts
Silver
CSR Marine • Eggbeater Creative • First Yacht Services • North Sails • Signature Yachts
Harken • Survitec Group
Supporters
Mount Gay Rum • Hester Creek • Whistler Brewing
Tremewen Art • Kingwell Island Art • Serendipity Maui • West Maui Sail & Canvas • Trilogy Excursions
Victoria Preferred Accommodations
Harbour Towers Hotel • Hotel Grand Pacific • Sandman • Strathcona Hotel
Aston Kaanapali Shores • Outrigger Hotels and Resorts • Pioneer Inn • Sheraton Maui
Southern Straits • Oregon Offshore • Swiftsure • Van Isle 360