VIC-MAUI QUALIFYING RACES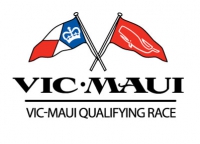 Selected overnight distance races are designated as "Vic-Maui Qualifying Races".
It is highly recommended that potential Vic-Maui boats and crew members participate in one or more of the Vic-Maui Qualifying Races as part of their personal preparation for the Vic-Maui International Yacht Race. Individual crew experience with overnight sailing is important to skippers when selecting crew, and combined crew experience with long distance overnight sailing is important to the race committee when considering Vic-Maui entries.
The 2024 Vic-Maui Notice of Race requires that a boat shall provide a log or other evidence of completion within two years prior to the race: Pacific Northwest Offshore Race, Van-Isle 360 (outside legs), or the Swiftsure Lightship Classic; another equivalent ocean race; or an offshore passage of at least 150 miles; with half of the Vic-Maui crew including the Person in Charge aboard. This requirement is designed to ensure that race participants have some exposure to offshore sea conditions.
Please refer to the Vic-Maui Notice of Race for qualifying requirements.
| | | |
| --- | --- | --- |
| | | |
| Pacific Northwest Offshore | Swiftsure International Yacht Race | Van Isle 360 International Yacht Race |
| Dates: May 11-14, 2023 | Dates: May 27-28, 2023 | Dates: June 3-17, 2023 |
| | | |
| | † Swiftsure Lightship Classic | † Outside Legs |
Vic-Maui highly recommends Vic-Maui boats and potential crew members compete in selected overnight races to hone crew member skills, training and experience in preparation for Vic-Maui.
These overnight races meet this requirement.
| | |
| --- | --- |
| | |
| Southern Straits Race | Cascadian Convoy |
| Dates: April 7-9, 2023 | Dates: September 30 - Oct 1, 2023 |
| | |
| † Long Course | † Long Course |
---
updated Feb 28, 2023