Team Profiles - Miles (2016)
Profile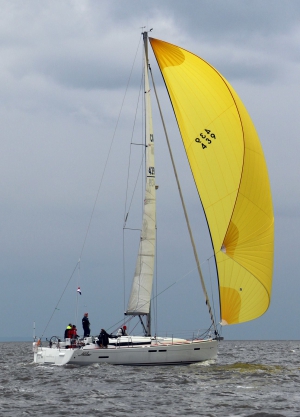 Type: Jeanneau Sun Odyssey 439
Skipper: Gordon Wylie
Class: Racing, Fully Crewed
Hailing Port: Vancouver, BC, Canada
LOA: 43.75'
Yacht Club: Royal Vancouver Yacht Club
Sail Number: 439
Status: Entered e

Hailing from Vancouver, BC, 2016 will be Miles' first entry into the Vic-Maui International Yacht Race. Her crew has a wide variety of experience; including extensive Vancouver area racing around the cans, Vic-Maui qualifying races and various other offshore racing and cruising. Miles will race in Southern Straits 2015 & 2016, Swiftsure 2015 & 2016, as well as other distance races in preparation for the 2016 Vic-Maui.
Several of Miles' crew knew Don Byrne -- long-time Vic-Maui Communications Officer prior to his passing in 2002 -- and consider it an honour to be competing in this race that Don put so much of his heart and soul into.
While the Miles team will be charging to Maui as fast as possible, they are sure to find some time along the way to listen to some great music (including Miles Davis, of course) and hopefully catch a few fish.