Team Profiles - Avalon (2014)
Profile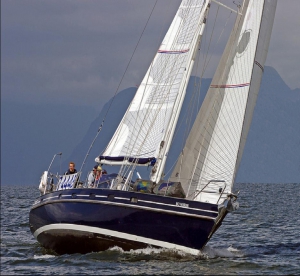 Type: Contest 44 Classic
Skipper: Pieter Smits
Class: Racing, Fully Crewed
Hailing Port: Vancouver, BC, Canada
Yacht Club: Vancouver Rowing Club
Builder: Conyplex Holland
Sail Number: 74448
Website: http://www.avalon-sailing.com/
Status: ZZ-2014 Avalon

Avalon is a Contest 44 Classic and sails for the Vancouver Rowing Club, skippered by Pieter Smits.
She was launched in 2000, at the Conyplex Yard in Medemblik, Holland. Avalon participated in many voyages from Holland to Norway, Scotland, France and England.
Since 2008, Avalon's homeport is Vancouver. Here she is an active participant in the local races. In 2013 she took part in the following races: The Round Patos Race, The Southern Strait, The Swiftsure, The Round Salt Spring race and The Round Bowen Island Race. Recently she did a practice trip to San Francisco.
Avalon is fortunate in having access to different crews, who not only contribute their skills, but also offer great sportsmanship, camaraderie and make each race a very enjoyable and great experience.