Team Profiles - Kinetic (2020)
Profile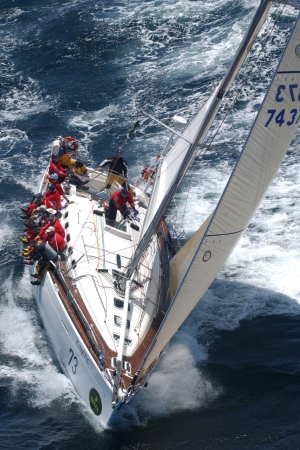 Type: Beneteau First 47.7
Skipper: David Sutcliffe
Class: Racing Class, Fully Crewed
Hailing Port: Vancouver, BC, Canada
Hull Colour: White
LOA: 48.58'
Beam: 14.75'
Draft: 9.17'
Yacht Club: Royal Vancouver Yacht Club & West Vancouver Yacht Club
Designer: Bruce Farr
Builder: Beneteau France
Launch Date: 2003
Rig: Sloop, fractional
Sail Number: CAN 74373
Website: https://www.facebook.com/KineticSailing/
Status: 1f entered

Kinetic, a Beneteau First 47.7 sailing for the Royal Vancouver Yacht Club and skippered by David Sutcliffe, is entered in the 2020 Vic-Maui. Kinetic's home port is Vancouver.
The Kinetic team has campaigned Farr 30's, a First 47.7, and a TP 52. Events sailed have included six Vic-Maui races, one Sydney Hobart race, one Transpac race, four Van Isle 360 races, four Oregon Offshore races, two Key West Race Weeks, and many Southern Straits, Swiftsure, and other races. Kinetic's longest trip so far has been sailing from Vancouver to Australia and back, a round trip of over 17,000 nautical miles.
Notable Vic-Maui results: 2010 - an overall win, sailing with a crew of five adults and four teens; 2012 - a division win; 2016 - an overall win.
Preparing for the 2020 Vic-Maui, the Kinetic team will sail in the 2020 Southern Straits, Oregon Offshore, and Swiftsure races.
This will be the Kinetic team's seventh Vic-Maui and eighth ocean race to Hawaii. We're in it for the challenge, adventure and teamwork, and the great people and parties in Lahaina!
You can 'like' us on Facebook at https://www.facebook.com/KineticSailing/