Thrills & Oddities & 2022 Vic-Maui International Yacht Race Ramblings
by Charlotte Gann, September 21st, 2022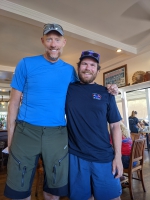 As cool marine fog rolls in and out of the Strait of Juan de Fuca on these September days, we savour a wildly successful Vic-Maui race. Back when competitors began preparing for the summer 2022 marathon to Hawaii, few could have imagined the challenge, adventure and teamwork ahead. Under Vic-Maui Event Chairs LYC's Lars Bertelsen and RVYC's Jim Innes, son of the race founder who was also Jim Innes, we have had a thrilling race. But what drives someone to do the Vic-Maui?
A look back; Guy Walters was a Race Trustee until 2020, his first Vic-Maui race was 1978 and ever since, he and partner Barbara generate excitement around Vic-Maui. They met each 2022 yacht's crew before the races started, at fleet Send-off Socials on the docks in front of Victoria's Empress Hotel. Each yacht finishing the race were welcomed by Guy and Barbara from the Lahaina pilot boat.
Challenge: On each race start day, winds were light, weather overcast. Each fleet was blessed by Lahaina Yacht Club's Ambassador, Rochelle Mendoza, and spirits were high. The fleets started smoothly on July 4th and 6th; the first fleet was accompanied to Race Passage by a Humpback whale.
A few days along, spinnaker runs began off the Oregon coast. Later came champagne sailing with the moon and stars, and Lurline's crew traded longjohns for shorts. Red Sheilla and Planet Express buddy boated for a bit. Steadier winds brought out fishing lines for bluefin tuna. The boats surged in 20-30 knot winds through sun and squalls. The full 'Buck' moon was captured above Peligroso's rigging, lighting up the ocean and instruments. Perfect racing conditions and the Perseid meteor shower followed.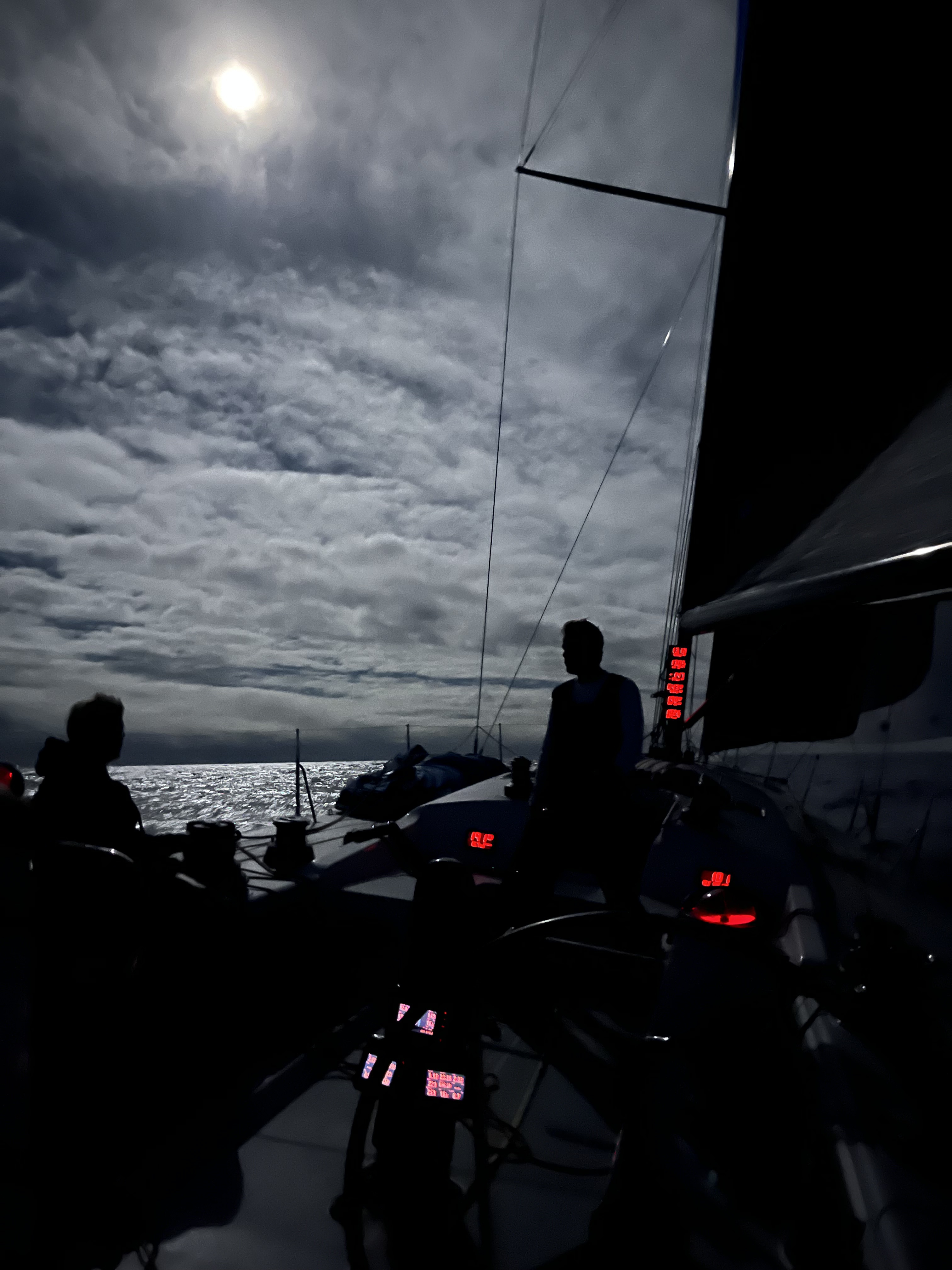 Peligroso sailing under the Buck Moon; James Clappier photo
New Haven asked to change classes, the class agreed, growing the Lahaina Class to 5 boats. With the Vic-Maui time limit extended by four days to July 26, most boats would officially finish. Lurline's specific time constraint caused them to withdraw from racing and motorsail to Lahaina. By July 12th, halfway party celebrations were afoot. The first reported mahi mahi landed was Amun-Ra, doing their best 'Jimmy Buffett' - sun, surf, and tropical rock. Planet Express now had Flow as their buddy boat, chatting on VHF while Flow droned above Planet Express.
Peligroso crossed the finish line on July 15, having raced 9 days, 21 hours, 6 minutes, and 19 seconds, taking First to Finish on elapsed time. Celebrations at the Lahaina Yacht Club included mai tais, puupuus, while Jan Nolan and the Customs agent efficiently cleared the crew.
Millennium Seagull bashed her way through six squalls overnight while Phoenix, experiencing a 30+ knot squall, saw dawn bring sight of a tropical bird – land was near!
Meanwhile, Lahaina Yacht Club's Waiting Wahine luncheon was hosted on July 18th in the Pioneer Inn's Courtyard, featuring traditional Hawaiian food and entertainment.
Adventure: Phoenix continued champagne sailing between squalls and on July 20th became the first Canadian boat to finish. Flow discovered some apples and oranges so diet variety returned, while Calgary's Xiomara 'headed for the barn door'. On July 21, Amun-Ra's marine head exploded (insert joke here...) then crossed the finish line to become the first Lahaina Class boat to finish.
Teamwork: July 22nd saw Racing Class boats Planet Express, Red Sheilla, and Xiomara, finish within 19 minutes of each other, making the Vic-Maui race the longest 'round the cans' race in history. Red Sheilla hit 19.7 knots while finishing. Outbreak and Flow also finished and Lurline arrived.
Accomplishments were recognized at the July 23rd Vic-Maui Awards Banquet. For his 13 Vic-Maui races and 13 Maui-Vic deliveries, Vern Burkhardt was presented with a plaque. Jan Nolan's extraordinary organization was acknowledged in helping each boat clear customs efficiently.
On July 24th, Millennium Seagull finished, winning the Lahaina Class. July 25th, Annie M finished and WON the G.F.Y. Turtle trophy - last to finish within the deadline. On the 26th, New Haven safely arrived. The growth of the Lahaina Class fleet is excellent.
Thrills:
1st shark – July 6th, Red Sheilla

1st dolphins – July 6th, Amun-Ra, the dolphins carved bioluminescent trails

1st Dall's porpoise – Outbreak

1st tuna caught – Amun-Ra

1st mahi mahi caught – Outbreak

Whales, sharks, dolphins – some even followed boats
Outbreak retrieved a monster glass ball

Annie M found their lost Nutella – joy!

Millennium Seagull went for a swim to retrieve their runaway spinnaker halyard

Amun-Ra had a full spinnaker wrap at night and sorted it out; later they replaced an exploded chute
Oddities:
Annie M caught a great white shark that ate their flagpole

Outbreak caught a 16 pound tuna – with a cedar plug!

Planet Express's fruit fly invasion was resolved after a seabird landed and gobbled the bugs up

Planet Express had a shark attack which ate a sock hanging from the rigging – now 1 semi-socked crew

New Haven's keyboard letter 't' got stuck in the upright position and would not budge

Xiomara had squid jump aboard then slither away

Phoenix had flying fish jump aboard then slither away

Millennium Seagull had crabs and flying fish jump aboard which became crab cakes and calamari

Amun-Ra's exploding head just a few hours before they finished the race

Xiomara dove their rudder to remove some rope
Fishing derby winner – Outbreak caught 3 tuna, 1 mahi mahi. In total, 17 fish were reported caught – 8 tuna (bluefin, yellowfin), 8 mahi mahi and one shark (Annie M).
So – why would sailors do the Vic-Maui International Yacht Race? We're ramblers, curiously delving into remote corners of the blue world, seeking adventure and challenges. And the moon and stars.
Thanks to all who've made this happen – sponsors and volunteers and sailors. See you in 2024!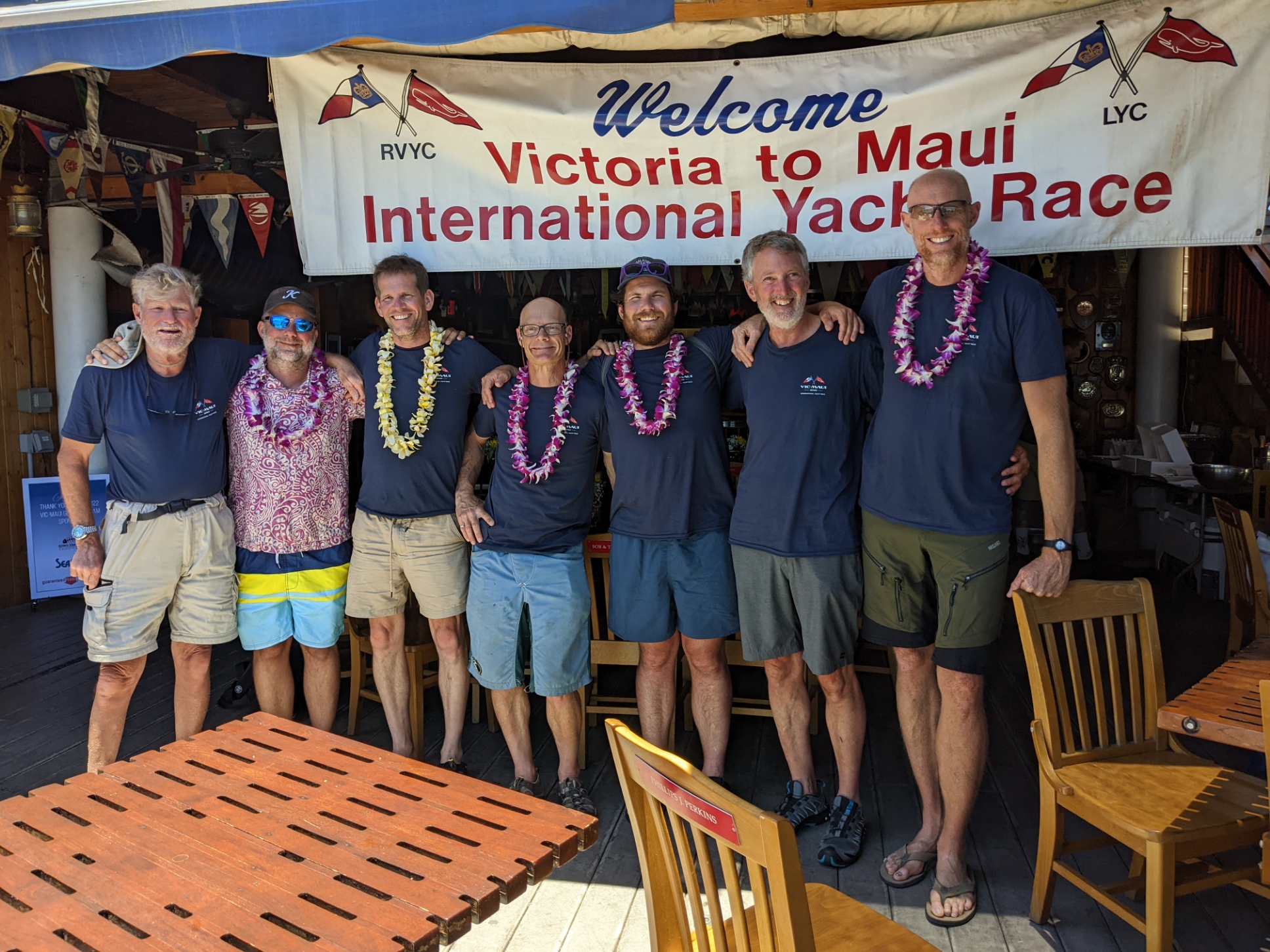 Millennium Seagull winners of Lahaina Class
Photo: Jim Innes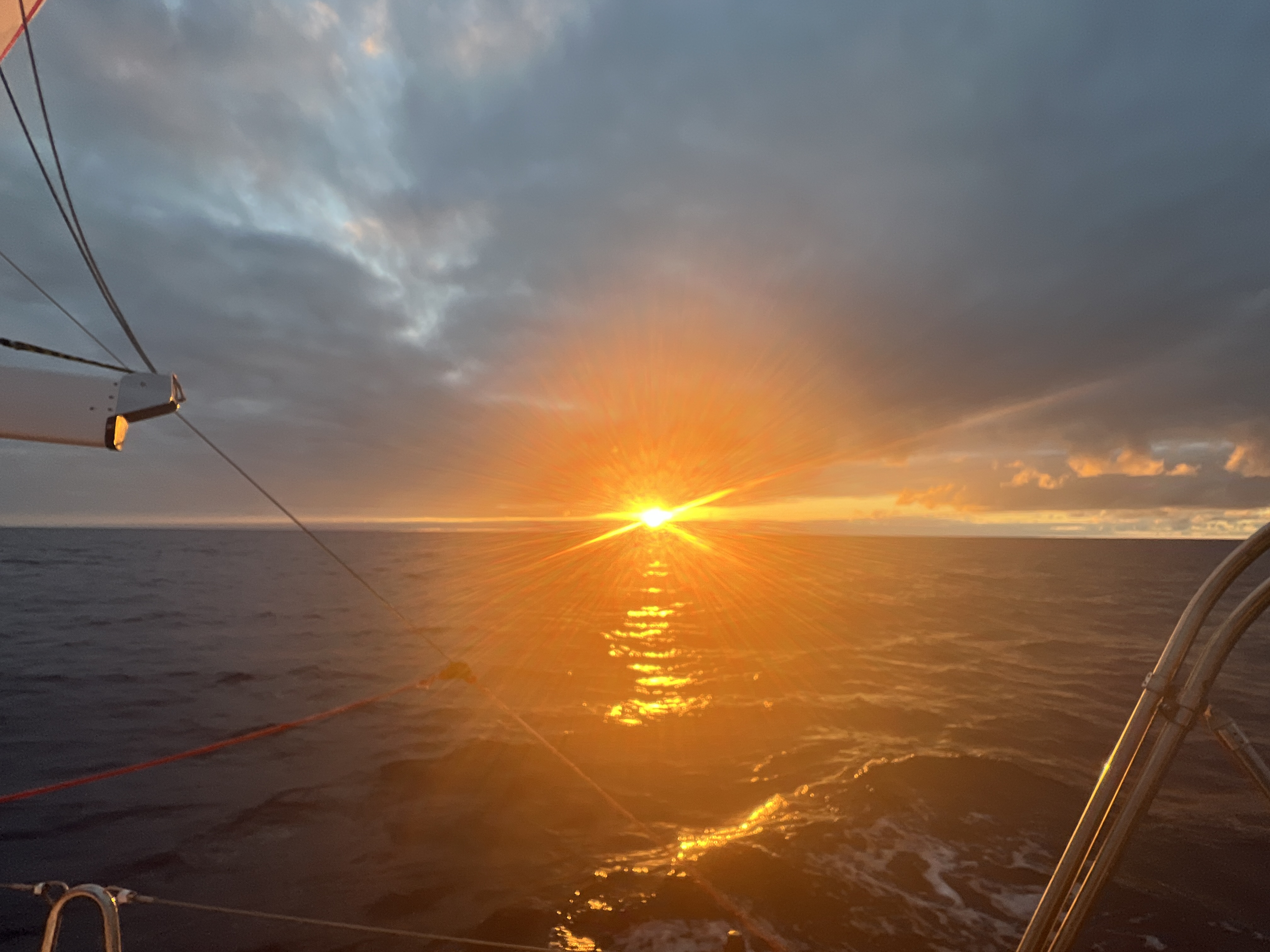 Red Sheilla Sunrise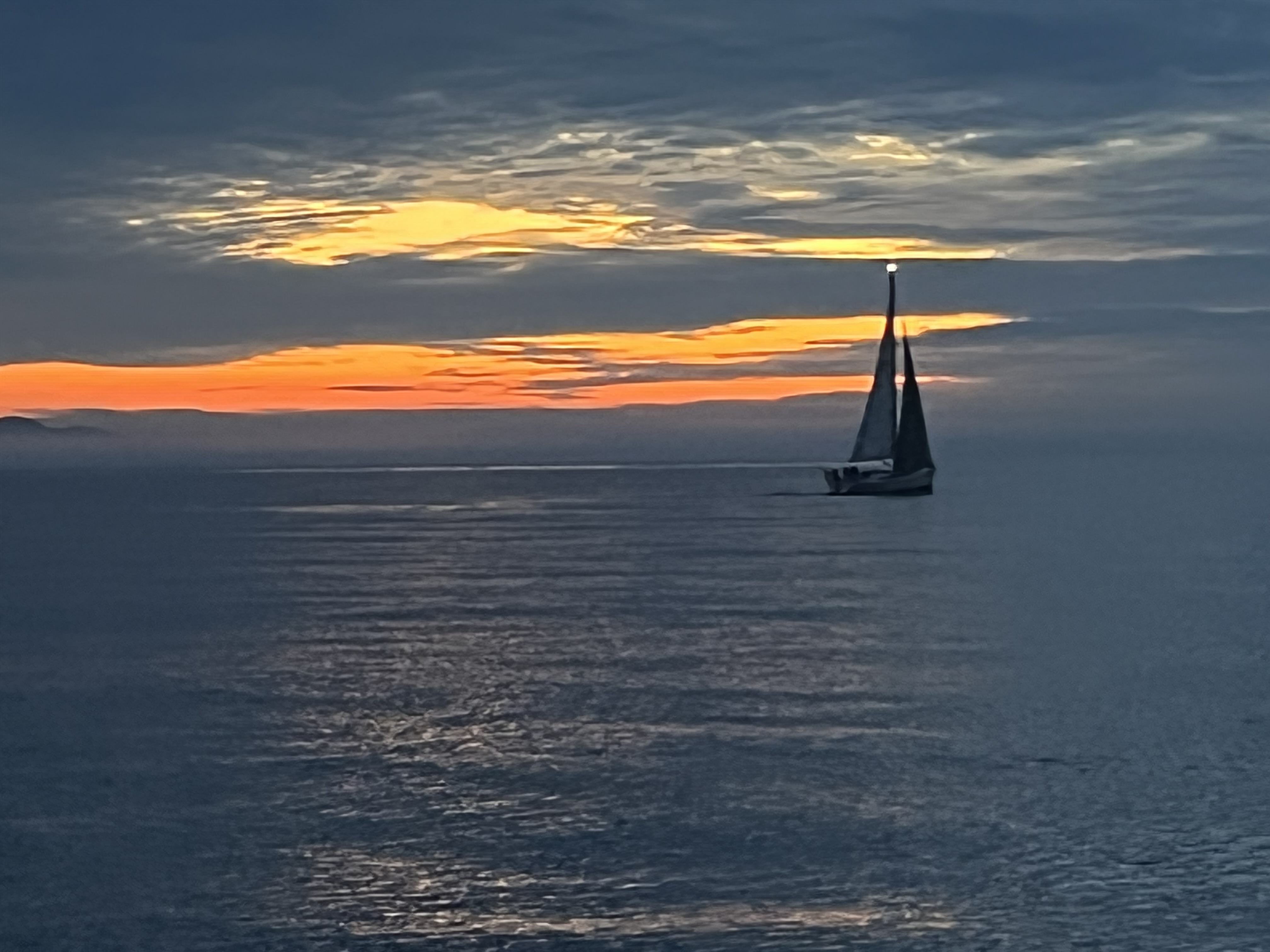 Red Sheilla sees another fleet boat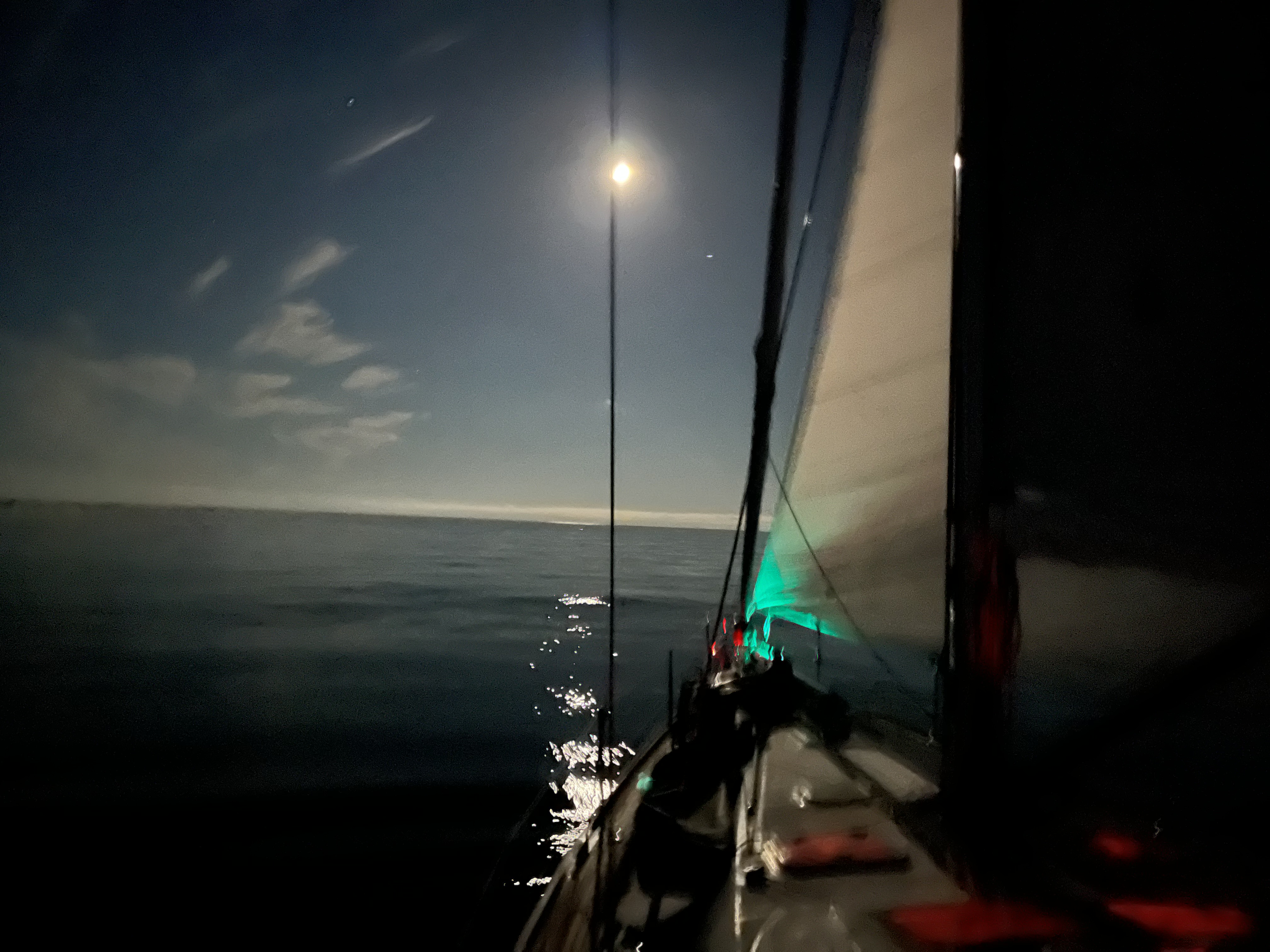 Red Sheilla sailing by the light of the moon