Roll Call August 7 & The Variety Fish Pack
by Charlotte Gann & Race Committee, August 7th, 2022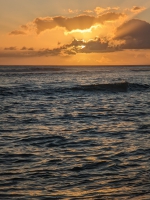 Leader of the pack – Amun-Ra is now closest to the pin (JdF Strait) at 45.34 N, 151.11 W, and no doubt using her 2-iron in the calm seas. Xiomara and Red Sheilla are close behind. Wattson, Xiomara's hydrovane, attempted Flow's wind instrument strike but this was just not on, and Wattson is back on duty. Red Sheilla calculates they're now east of the Hawaiian Islands – um, gulp, we thought they left Hawaii behind last week – but if you look at the easternmost end of the Big Island, it's at 154.79 so yes, Red Sheilla, you are now beyond paradise.
Fish food – another mahi mahi catch for Phoenix this morning, then they caught a 45 lb yellowfin tuna but had to let it go – no freezer; Phoenix has now pulled in all but 1 fishing line as they're moving out of the mahi mahi zone and into big tuna. Phoenix Buy/Sell/Swap – 3 lures for sale to the highest bid. Flow had fish tacos last night for dinner, fish and chips for breakfast, and fishcakes for lunch – variety isn't their spice of life but sure is a treat and the crew has a super healthy, big Omega 3 intake. Outbreak – well, they were trying for a fish feed but decided 6 feet of shark didn't appeal and cut it loose.
Briefly, Flow and Phoenix waved at one another, then Phoenix shook out her double-reefed main, hoisted the 3.5 jib and jetted away close-hauled, bye bye Flow.
Millennium Seagull still had some biggish seas and winds to contend with but these are now laying down a bit. Push on, beach chicken, push on.
Planet Express is hustling to catch up with the others – they've motorsailed through a soft spot, now under spinnaker.
Roll Call for Maui Vic Boats on August 7
| | | | | | |
| --- | --- | --- | --- | --- | --- |
| DATE | 22-08-07 | | | | |
| | Latitude | Longitude | TWS | TWD | Atm Press |
| | Deg-Min | Deg-Min | kts | Deg | millibar |
| Phoenix | 40-44 | 154-16 | 15 | 090 | 1026 |
| Red Sheilla | 44-39 | 154-32 | 12 | 140 | 1030 |
| Xiomara | 44-22 | 148-12 | 9 | 085 | 1032 |
| Amun-Ra | 45-34 | 151-11 | 9 | 136 | 1027 |
| Millennium Seagull | 23-09 | 156-40 | 15 | 125 | 1021 |
| Planet Express | 28-37 | 156-57 | 12 | 170 | 1020 |
| Flow | 40-19 | 154-30 | 13 | 100 | 1027 |
| New Haven | In Honolulu | | | | |
| Annie M | In Honolulu | | | | |
| Outbreak | 41-52 | 154-54 | 12 | 120 | 1027 |