Team Profiles - Planet Express
Profile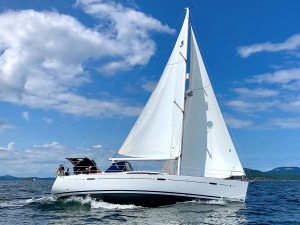 Type: Beneteau 43
Skipper: Adam Serediuk
Class: Racing Class, Fully Crewed
Hailing Port: Victoria, BC Canada
Hull Colour: White
LOA: 43
Yacht Club: Royal Victoria Yacht Club
Designer: Berret Racoupeau
Builder: Beneteau America
Rig: Sloop
Sail Number: CAN 1958
Website: https://www.facebook.com/sailplanetexpress/
Status: 1b entered

Planet Express second boat to enter.
Planet Express, a 2011 Beneteau Oceanis 43 and her crew are excited to enter and prepare for the 2022 Vic-Maui! This will be Planet Express' first Vic-Maui.
Skipper Adam Serediuk sailed the return trip from Maui to Victoria in 2018 and is eagerly anticipating downwind conditions in 2022!. The crew, including Carl Blouw as tactician, are developing a campaign for a safe, fun, and fast trip to Maui. It helps that we think fast is fun.
While the crew hasn't sailed much together (thanks, COVID) we have experience in several Van-Isle 360s, the Rolex Big Boat Series, and TONS of ocean miles on deliveries in the Pacific, including two active duty members of the Canadian Coast Guard with a ton of sea miles.
We will be taking every opportunity in 2021 and 2022 to develop our program, train, and get ready for this bucket list trip. We look forward to seeing you at the start line, and in Lahaina!