July 19 Roll Call & Next Boat Coming in HOT
by Charlotte Gann & Race Committee, July 19th, 2022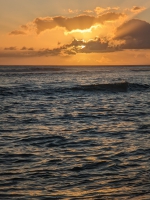 The Ouija board is out., fingers are touching. When asked, the Ouija board said Phoenix will be the next boat to finish; they're about 100 nm at 3 PM HST and pushing hard and solid at 9 kts. Timing for finish – the wee hours of Wednesday morning. Dudes are keeping cool with their straw hats on. Gonna be some party tomorrow.
All boats' time allowances on YB Tracking have been updated based on the revised Peligroso time allowance.
How's the sailing for the rest of the fleet? Night squalls (not night sweats, that comes later). Lurline is looking for mauka showers – those nice cool mountain showers of the Hawaiian islands. Xiomara is having champagne sailing (lots of bubbles) and have sun, surf and sand (well maybe not that last bit).
Challenges given, challenges met. Amun-Ra had spinnaker issues around noon today and the crew handled this like the champions they are. New Haven survived a squall with 40+ knot gusts and all were clipped in – this is some of the training all Vic-Maui boats do ashore during the planning for the race, and reflect the high degree of safety drummed in during the Safety At Sea training. Good job, guys. Annie M - the deck block for the pole downhaul blew up with a bang during a squall but crew got it all sorted. Outbreak has a jammed main furler that they're working on and will solve before long.
Things that fly and don't go bump. Millennium Seagull had flying squids and crabs arrive on deck, freeloaders that they are, but no flying fish – which make for lousy eating anyway. So calamari and crab cakes are on today's menu.
Planet Express has taken over for New Haven's keyboard woes – the keyboard below decks is hot, hot, hot and nobody's dancing though they are totally enjoying the last few days.
Flow and Red Sheilla are all shiny and covered in sun screen, now thinking about a dip in the pool but those waves are a bit of a nuisance so they think they'll keep sailing for a bit yet.
If you've not yet experienced a Hawaiian sunset, it's truly something to behold. Heaven on earth? Yes, paradise.
Roll Call July 19 at noon HST from the fleet:
DATE

22-07-19

Latitude

Longitude

TWS

TWD

Atm Press

Deg-Min

Deg-Min

kts

Deg

millibar

Peligroso

Finished July 16 at 06:06

Phoenix

22-24

154-43

15

57

1019

Lurline

24-41

145-38

16

67

1021

Red Sheilla

25-18

148-13

22

80

1021

Xiomara

24-34

148-35

21

60

1022

Amun-Ra

23-49

150-53

16

64

1018

Millennium Seagull

26-06

145-05

11

60

1013

Planet Express

24=33

147-49

19

61

1021

Flow

24-27

146-55

18

55

1022

New Haven

28-30

148-05

9

56

1023

Annie M

30-11

144-02

16

65

1023

Outbreak

27-42

151-21

15

58

1022