Peligroso is the 1st to Finish the 2022 Vic-Maui International Yacht Race
by Charlotte Gann & Race Committee, July 16th, 2022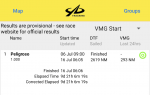 YB Tracker has the data; Peligroso finished at 06:06:19 HST today.
Elapsed time is 9 days 21 hours 6 minutes and 19 seconds. Great result and Line Honours for Peligroso given the extremely challenging conditions this year!
The elapsed time record (Line Honours) was set in 2016 with Gavin Brackett's TP52 Valkyrie - 8 days 9 hours 17 minutes 50 seconds.