Shenanigans in the Fleet on July 12
by Charlotte Gann & Race Committee, July 13th, 2022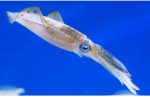 The day of the Super Moon is soon upun us and we hope tonight will be a clear night on the ocean for our mariners to steer by – this will be the largest Super Moon this year. It was very bright last night, even more so tonight.
A quick catch-up for July 12 from the fleet. Lurline had a close encounter with a freighter, spoke on VHF 16 but seemed to have some communication (language?) issues.
Xiomara had tuna bait on board for a while but the Kraken, or rather, little squid slipped away before anyone could prep it for calamari or bait.
Amun-Ra and Outbreak are negotiating a condiment for fuel trade on the high seas. Let's stay tuned to see how this goes.
Millennium Seagull's and Planet Express's crew are all happy, enjoying perfect racing conditions and warmer weather. Flow is also well, doing lots of maintenance on sails and rigging – this is completely normal stuff, part of daily watches is given over to reviewing all the boats systems including the standing and running rigging. Spotting things before they become a challenge is a mark of a fine mariner.
Food – apparently there are fun food discoveries being made – Annie M found a jar of Nutella and have declared life is sweet on the ocean.
And the ongoing saga of the uppity letter 'T' on New Haven continues. This is the weirdest puzzle yet. Everyone is on the edge of their berth, waiting to hear how this comes out.
Oh yes, life at sea is never dull.