Ultreia Makes 15!
by Event Committee, October 1st, 2021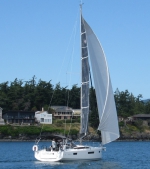 Our family are thrilled to embark on our first Vic-Maui with our new boat Ultreia. We are looking forward to the race to Maui as well as the cruise home with a fleet of friends. While we hope to be competitive, our ultimate goal is a spirited, safe and fun race where we eat as well as we sail, and we enjoy the journey and all it's lessons.
If all goes to plan, we'll have three generations on board for this adventure, and we'll experience the ultimate preview of cruising the Pacific and beyond in years to come.