2020 Vic-Maui cancelled due to COVID-19 pandemic
by Event Committee, March 25th, 2020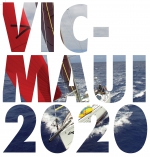 2020 Vic-Maui International Yacht Race cancelled due to COVID-19 pandemic
March 25, 2020
Vic-Maui has completed a review related to the COVID-19 pandemic and the 2020 Vic-Maui. This review was undertaken with input from the skippers of all of the entered boats. Vic-Maui's trustees and committee chairs have concluded that it is in the best interests of competitors and other stakeholders to cancel the 2020 Vic-Maui International Yacht Race.
The race had been scheduled to start in July 2020. Most remaining training courses and qualifying events leading up to Vic-Maui have already been cancelled. Current public health guidance is for people to practice social distancing and to stay at home for all but essential reasons. Travel restrictions are in place, borders are closed, quarantine requirements are in effect, and the timeline for a return to normalcy is unknown.
The decision to cancel the 2020 Vic-Maui has been taken now rather than later in order to allow competitors, volunteers, families, friends, and supporters to focus on being safe and staying healthy, and to encourage compliance with public health advice during the boat preparation and team development phase prior to the race itself. Without this early cancellation, safety now (public health) and safety later (being fully prepared for offshore sailing) could both be at risk.
Mahalo - thank you - to our 2020 Vic-Maui community - competitors, volunteers, families, friends, and supporters. We recognize and appreciate all your efforts and support. We look forward to planning and sailing a future Vic-Maui together when conditions have improved. In the meantime, be safe and stay healthy.
Questions? Please email rvyc-chair@vicmaui.org.
Vic-Maui on Facebook and Twitter
We invite you to follow Vic-Maui for Challenge • Adventure • Teamwork.
* * * * * * * * * *
Victoria to Maui International Yacht Race
The Victoria to Maui International Yacht Race is hosted by the Royal Vancouver Yacht Club and the Lahaina Yacht Club. First contested in 1965 and sailed every second year since 1968, Vic-Maui is the pinnacle of Pacific Northwest ocean racing. Vic-Maui starts in July off Victoria, British Columbia and finishes near Lahaina, Maui, a distance of approximately 2308 nautical miles.
Vic-Maui challenges navigators to demonstrate their weather routing and navigational skills. Success depends on the navigator's skill in predicting where the Pacific High pressure zone and trade winds will be, nearly a week into the future.
The adventure includes sailing around the Pacific High and surfing downwind in the trades. The days pass quickly with the fleet surrounded by dolphins and albatross, spectacular sunrises, sunsets and brilliant starlit nights.
Teamwork gets the boats to the finish line near Lahaina, where each arriving boat is greeted with an outstanding Hawaiian welcoming party. Family and friends meet the racers to celebrate the accomplishment with hugs, leis and mai-tais. Many crew stay to spend more time enjoying Maui with their families before heading home.
Visit www.vicmaui.org for Challenge - Adventure - Teamwork!
* * * * * * * * * *
Co-Hosts
Royal Vancouver Yacht Club • Lahaina Yacht Club
Gold
Navis Marine Insurance • Pacific Yachting • Martin Marine
Silver
CSR Marine • Eggbeater Creative • First Yacht Services
• Greater Victoria Harbour Authority • Harken • North Sails
• Pioneer Inn • Pro-Tech Yacht Services
• Ralph's Radio • Signature Yachts • Survitec Group
Southern Straits • PNW Offshore • Swiftsure • Van Isle 360
* * * * * * * * * *