Anjo Arrives Under Cover of Darkness
by Race Committee, July 16th, 2018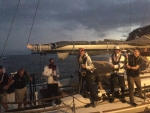 Clayton Craigie and his crew aboard Anjo arrived under cover of darkness this morning crossing the line a little after 4 am local time. An hour later with dawn just starting, the boat got to the welcome party at Lahaina.
What an adventure! Even before the race started, the brand new (and still being fitted out) Beneteau First 40 had issues with their main halyard which handicapped them by delaying start by 5 minutes and having to sail the whole race with a reefed main sail. And they had teething issues with spinnaker tack line fittings and reaching sails that resulted in much more time on a genoa than was right. Even with these issues, Anjo only arrived 18 hours behind the similar boats in Division 2 - a great achievement.
Attention now turns to the last 2 finishers - Oxomoxo and Serenite are expected early afternoon.