Day 4 - What A Difference A Day Makes
by Race Committee, July 4th, 2018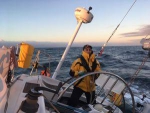 The low that boats ran into around Roll Call yesterday has mostly moved to the east and strong northerly winds have filled in its wake. What better way to celebrate the 4th of July than to see all boats moving quickly again. But the sustained winds of 20 kts or better is starting to take its toll on gear - Kraken reported an accidental gybe that blew their traveller apart. And taking its toll on people as even the seasoned veterans were calling last night "challenging". At Roll Call today, the fleet was generally about 400 miles west of Florence, on the Oregon coast still more or less pointing straight towards Maui. And going fast.
The light airs and challenges after the low passed last night compressed the fleet together. In Racing 1, Firefly and Joy Ride split apart last night but are now approaching each other; both sailing over 9 kts. While 45 miles apart on the race course, Firefly's lead (measured in distance to finish) has shrunk to less than 10 miles – pretty much a dead heat.
Racing 2 has also compressed with Salient, Turnagain and Kraken all more of less the same distance to Hawaii. Oxomoxo is about 35 miles back, but because of their time allowance, they are still very much in the mix. Anjo got caught being a little too far to the east, but have now moved back to the west where better winds are and making up ground quickly.
In Cruising Class, Serenite used the rules on running their engine in gear to good use during the lighter winds and are now only 25 miles behind Anjo as both move into stronger winds. The girls on Gemini's Dream are now in the lighter winds that the others have moved out of. They report the easing came as a relief – but it looks like the relief will be short.
And the first fish was reported today on Oxomoxo with a tuna going straight from the line to the fry pan leaving a bloody mess on the deck. Kraken had company with a couple of Humpbacks for a while – that must be good luck after several gear failures. But Joy Ride had company with a Minke, a Humpback, and porpoises - perhaps even better luck.
Now the fleet is onto the next challenge – better described in today's Weather Eye. How are the boats all going to manage crossing the "plateau" and be first into the trade winds. At least it looks like Hurricane Fabio will not be an issue as the National Hurricane Centre is reporting it is already weakening and will be a remnant low by Sunday, well ahead of the fleet
Today's Featured Sponsor:
Professional riggers to racing and cruising yachts.
Boat parts & Marine services
Masts, Pulleys, Blocks, Winches, Rope, Wires
Lynnwood Marina
1629 Columbia Street
North Vancouver, BC
Email: sales@pro-tech.bc.ca
Phone: +1 604 988 3052
Websites; https://www.facebook.com/ProTechYachts/