All Boats Safely Home - Now Looking to 2018
by Race Committee, October 10th, 2016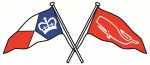 With the arrival home of Equus and Rain Drop after their delayed departure from Hawaii, all the boats have returned safely home. Thoughts are now turning to Vic-Maui 2018.
Dean Conti contacted Race Committee on Oct 9 to inform that Equus finally completed her return and is safely back in Des Moines, WA. The return trip was particularly tough because the wind was on the nose for so long after leaving Hawaii and then there was a long period of slow motoring with no wind. Then on the night of Oct 6, they were around 100 miles away from where the two sailboats that foundered off the Washington coast experiencing the roughest of conditions. But Equus handled it all well.
A couple of weeks earlier, Rain Drop returned home to Portland after the original delivery crew made had a false start in early August and had to return 700 miles to Honolulu. After repairs and provisioning, Bill Huseby re-started the return and reported an uneventful passage home after an few initial tough days.
One boat chose to stay in Hawaii. Michael Boldt plans to take Forty off to the south seas for further adventures. And speaking of further adventures, after a couples weeks at home to do the laundry and a few repairs, Travis McGregor and family headed out for Mexico aboard Turnagain, part of a planned multi-year adventure.