This is Crazy
by Race Committee, July 25th, 2016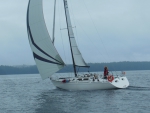 Are you kidding me? All boats flew at top speed across the Pacific, followed by an anxious wait for Tropical Storm Darby to approach Maui and the fleet. Then we watched the poor anchor watch on Atlanta and Kinetic V suffer the 35 kts of wind and associated waves in the Lahaina Roadstead. But wind was a constant. At least it was until Expresso approached the finish line. After more than 5 painful hours without wind off of Kaanapali, George Bishop's Express 37 out of Nanaimo Yacht Club crossed the finish line around 5:30 am local time.
As if that was not painful enough, Bob Hennessy's Starblazer kept the offshore wind and closed a 40 mile gap. Starblazer, sailing for West Sound Corinthian Yacht Club finished just behind at 6:53.
And Ion finished shortly after that. And Salient is in sight of the finish, and Mile right behind them. It is going to be a wild day at the Pioneer Inn.
TODAY'S FEATURED SPONSOR
.
For 40 years, Pacific Yachting has been the voice of boating in British Columbia. Good luck to all Vic-Maui participants!
Website: http://www.pacificyachting.com/