Everyone is Going Fast
by Race Committee, July 19th, 2016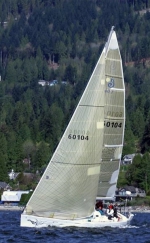 The Leaderboard looks funny as we re-started Turnagain and Forty in a new two-boat match race for supremacy in Cruising Class. We are not sure how to handicap tuna caught and lamb roast enjoyed, but we will try. Anyway, the different distance and start-time will makes it look like one of these two are leading the race for a while. To make the Leaderboard more accurate, make sure you click RECENT on the dropdown in the VMG box.
And speaking of leading the race, with 500 miles to go, a real battle for Line Honours between Kinetic and Valkyrie is shaping up. Current position and speed puts them both in sight of breaking the elapsed time record. Westerly is not far behind and Longboard may slip in to make it confusing (they started a day ahead). All are currently forecast to finish on Thursday.
For overall winner, it is a toss up between whether the TP52s get enough space in front of others. Longboard, Rain Drop and String Theory all have decent chances of being the overall winner.
TODAY'S FEATURED SPONSOR
Buying or selling a sailing yacht, Signature is the award winner for superior customer service. Website: http://www.signature-yachts.com/