Mountain is Retiring
by Race Committee, July 15th, 2016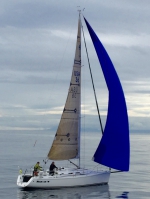 At 1640 HST (730 pm local time) Reed Bernhard from Mountain, the J-109 from Sloop Tavern Yacht Club in Seattle, contacted Race Committee to inform Vic-Maui that they are retiring from the race and diverting to Los Angeles.
They discovered problems with their upper rudder bearing and believe it would not be safe to continue across the Pacific to Hawaii. They have taken measures to ensure the equipment stays together to allow them to get their bail out port. They are very disappointed as they were having a great race and were one of boats leading the parade to Hawaii. Mountain will continue to participate in Roll Call until they get safety to L.A.
The Vic-Maui family shares their disappointment and wishes them Godspeed in getting to their destination.