Not in the Brochure
by Race Committee, July 11th, 2016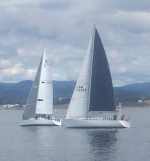 At Roll Call today, the first sixteen boats are all off the coast of Washington and Oregon, or directly on the Rhumb line to Maui (Rhumb line = direct route on a map. All are facing challenging conditions in the form of headwinds with variable speeds and bad tacking angles. Funny how the race promotion brochure talks only about perfect reaching conditions all the way to the tropics.
Expresso and Mountain are the furthest south, having passed Astoria, but are also the furthest east, just 70 miles off the Oregon Coast.
Amiskwi and almost all of the boats from the second start are on the rhumb line. It was a successful strategy in 2014 when String Theory placed second. John Mortimer is repeating that strategy although pounding to windward in 20 kts of breeze all the way to Hawaii might get tedious. At least they have wind.
And we have the first tuna today. Salient clearly was not too busy changing head sails and tacking and got the fishing gear deployed and were rewarded with a 14 lb tuna. Other boats report seeing lots of dolphins and a number of whales. That is in the brochure.
And for added fun, the National Hurricane Center is tracking Hurricane Cecelia which is presently on track to reach Hawaii on Sunday. It should pass or dissipate well ahead of the Vic-Maui fleet, but it adds a lot of colour.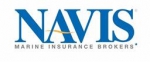 Today's Feature Sponsor is Navis Marine Insurance
FOLLOW THE RACE TRACKER AT VICMAUI.ORG