Vic-Maui publishes Preliminary Start Dates and Times, Vic-Maui Wind Matrix and Distance; Reichel Pugh 63 "Casey Jr"
by Vic-Maui, March 8th, 2016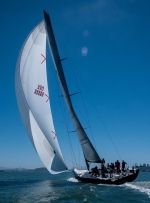 Vic-Maui Preliminary Start Dates and Times
Notice to Competitors 1: Preliminary Start Dates and Times has been published.
There will be starts on July 9, 10 and 12.
Final start dates, times and class-division breaks will be provided by April 30, 2016.
Download Notice to Competitors 1 or visit the Official Notice Board.
Vic-Maui Wind Matrix and Distance
Notice to Competitors 2: Vic-Maui Wind Matrix and Distance has been published.
The Vic-Maui Wind Matrix that is used to construct the course conditions for Vic-Maui has been updated for 2016. The daily wind observations for the 6 most recent Vic-Maui races (2004-2014) have been compiled and analyzed. The resulting wind information has been blended using a 50/50 weighting with the previous Vic-Maui Wind Matrix which was derived from the North Pacific Ocean July Pilot Chart produced by the U.S. Government. The updated Vic-Maui Wind Matrix indicates a little more reaching, a little less running and more wind at the light and heavy ends of the matrix.
Our analysis of the last 6 races shows that while the typical course stays to the east and south of the Pacific High, enough boats sail close to the rhumb line to statistically limit the deviation and make it difficult to justify using a distance other than the rhumb line distance.
Download Notice to Competitors 2 or visit the Official Notice Board.
Vic-Maui Official Merchandise
Vic-Maui Official Merchandise including shirts, jackets, gear bags and more is now available for online order. Selected products are also available for purchase in person in Lahaina at the Lahaina Yacht Club Ship's Store. Kit up your team, family, friends, and fans with 2016 Half Century Vic-Maui gear.
See the lineup at Vic-Maui Official Merchandise.
Vic-Maui Fleet Update
The final entry deadline was February 3, 2016. The 2016 Vic-Maui fleet has settled in at 23 boats, the largest fleet since 1994. The 2016 fleet is profiled at 2016 Vic-Maui Fleet.
Casey Jr, a Reichel/Pugh 63, will be skippered by Roy Disney in place of the originally entered Pyewacket, an Andrews 70.
Official documents:
Vic-Maui Qualifying Races - Plan Your Sailing Schedule!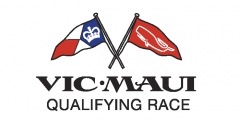 Four major overnight distance races are designated as Vic-Maui Qualifying races. The Vic-Maui fleet is encouraged to participate in these events as part of their crew and boat preparations.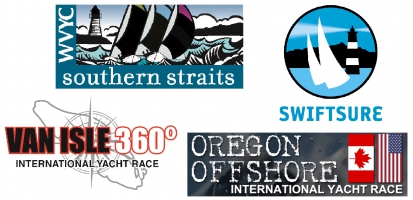 Dates for the 2016 Southern Straits race, 2016 Oregon Offshore race, 2016 Swiftsure race and the 2017 Van Isle 360 race have all been set.
See Vic-Maui Qualifying Races for more information on qualifying races, and Vic-Maui Events for a summary of 2016 event dates.
Featured Events:
Offshore First Aid - Third Class Added
A third Offshore First Aid class has been added, for March 19-20, 2016 in Vancouver. Space is available.
Offshore Personal Survival Course (Safety at Sea):
Upcoming Classes in Vancouver, Victoria, Seattle and West Vancouver
Vic-Maui requires a percentage of each boat's crew to have ISAF Approved training. Safety at Sea classes are very popular, and tend to book up quickly. Registering early for an approved class is strongly recommended. Ten classes are being offered in the region between November 2015 and April 2016.
Vancouver, Victoria, West Vancouver - see Offshore Personal Survival Course (Safety at Sea), offered by BC Sailing and local yacht clubs; Sail Canada - ISAF Approved
Seattle - see Safety at Sea Seminar, offered by The Sailing Foundation; the two day version is US Sailing - ISAF Approved
More Vic-Maui Events are listed on the frequently-updated Vic-Maui Events Calendar
Featured Sponsor:
Ralph's Radio
Ralph's Radio carries a wide variety of communications products including an extensive line of Satellite telephones, modems and accessories for major satellite networks including Iridium, Inmarsat and Globalstar. If there is something you are looking for but do not see, please contact us.
Website: http://www.ralphs.ca/
See more Vic-Maui sponsors at: http://www.vicmaui.org/sponsors
Vic-Maui Crew Bank: where crew looking for boats meet boats looking for crew
Want to crew on a Vic-Maui boat? Register on our Crew Bank.
Skippers looking for crew? Check the Crew Bank.
Vic-Maui Half Century
Vic-Maui, first sailed in 1965, is celebrating its Half Century in 2016.
The early entry deadline was September 15, 2015. The final entry deadline was February 3, 2016. The fleet size limit is 25 boats.
We invite you to join the 2016 Vic-Maui for
Challenge • Adventure • Teamwork.
Vic-Maui on Facebook and Twitter
* * * * * * * * * *
Shackles & Cotterpins welcomes your feedback, comments and suggestions. You can contact us at shackles.editor@vicmaui.org. You can find a list of all other Vic-Maui contacts on our website. We look forward to hearing from you. Click here to unsubscribe.
* * * * * * * * * *
Victoria to Maui International Yacht Race
The Victoria to Maui International Yacht Race is hosted by the Royal Vancouver Yacht Club and the Lahaina Yacht Club. First contested in 1965 and sailed every second year since 1968, Vic-Maui is the pinnacle of Pacific Northwest ocean racing. Vic-Maui starts in July off Victoria, British Columbia and finishes near Lahaina, Maui, a distance of approximately 2308 nautical miles.
Vic-Maui challenges navigators to demonstrate their weather routing and navigational skills. Success depends on the navigator's skill in predicting where the Pacific High pressure zone and trade winds will be, nearly a week into the future.
The adventure includes sailing around the Pacific High and surfing downwind in the trades. The days pass quickly with the fleet surrounded by dolphins and albatross, spectacular sunrises, sunsets and brilliant starlit nights.
Teamwork gets the boats to the finish line near Lahaina, where each arriving boat is greeted with an outstanding Hawaiian welcoming party. Family and friends meet the racers to celebrate the accomplishment with hugs, leis and mai-tais. Many crew stay to spend more time enjoying Maui with their families before heading home.
Visit www.vicmaui.org for
Challenge - Adventure - Teamwork!
* * * * * * * * * *
Hosts
Royal Vancouver Yacht Club • Lahaina Yacht Club
Gold
Greater Victoria Harbour Authority • Navis Marine Insurance • Pacific Yachting
• Mustang Survival
Silver
CSR Marine • Eggbeater Creative • First Yacht Services • North Sails • Signature Yachts
Harken • Survitec Group • Pioneer Inn • UK Sailmakers • Ralph's Radio
Supporters
Mount Gay Rum • Hester Creek • Whistler Brewing
Tremewen Art • Kingwell Island Art • West Maui Sail & Canvas • Trilogy Excursions • Burn'n Love
Victoria Preferred Accommodations
Harbour Towers Hotel • Hotel Grand Pacific • Sandman • Strathcona Hotel
Aston Kaanapali Shores • Outrigger Hotels and Resorts • Pioneer Inn • Sheraton Maui
Southern Straits • Oregon Offshore • Swiftsure • Van Isle 360