Daily Report - July 16 - Tomorrow; Is Only a Day Away
by Race Committee, July 16th, 2014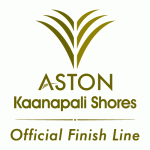 As people on the beach in West Maui will have noticed, the wind has filled in. The trade winds have finally started blowing like they are supposed to and all boats in the Vic-Maui fleet are rumbling. The wind forecast over the next few days shows good breeze all the way along the Rhumb Line. (Rhumb Line is a navigators term for the direct path – in this case to the Finish off Aston Kaanapali Shores Hotel, and coincidentally the rum in the Mai Tais at the Welcome Party.
(Numbers in brackets are miles to the Finish as of 5:00 pm Hawaii Standard Time)
With the stronger winds, Peter Salusbury's Longboard has picked up the pace and is surfing. At 5:00 pm HST today, she was 256 miles from the Finish and should finish late Thursday afternoon. Longboard has added to her lead over John Kerrigan's New Haven (333) who should finish in the wee hours of Friday morning. Barring mishap, Longboard should win the Lahaina Yacht Club Trophy for Line Honours. But with handicaps applied, the race for First in Class 1 is very much in play with New Haven being owed handicap time. JAM (688) s in the middle of the following pack of boats, having sailed a much longer course than the others.
The race is DEFINITELY ON for Royal Vancouver Yacht Club Trophy for First Overall (after handicap correction). No less than 4 boats in Class 2 are challenging Longboard and New Haven. String Theory (670), Alegria (718) and Kahuna (624) and Family Affair (776) could all finish on Saturday, July 19. At this point picking an Overall Winner is a fools-errand. The boat that makes the fewest mistakes, and keeps boat speed the longest will win the Class and possibly first overall. With stronger winds, the winner might also be determined by attrition as earlier winds off the Oregon coast tore up a number of spinnakers and a number of boats report being reduced to flying old bed-sheets. Also in Class 2 is 2014 Class 2 winner, David Sutcliffe's Kinetic who trails and reports towing a whole colony of sea critters living on a rope wrapped around the prop and shaft; this has proven to be slow and very difficult to remove.
In Class 3, we will also see boats arrive on Saturday, or early Sunday. Travis McGregor's Turnagain (630) leads the group, but Peter Shainin's Passepartout (715) is winning the class on corrected time. Also in the hunt is Warren Hale's Turicum (686). Following are Avalon (926) and Bedlam II (970).
Easily overlooked is the one boat in Cruising Division – Magnus Murphy's Losloper (871). Introduced in 2012, Cruising Division is intended for boats that are short of the confidence or expensive gear to compete with full race boats, but nevertheless want to experience the challenge of sailing to Hawaii inside an organized event. Boats in 2012 used the Cruising Division to jump start a bigger voyage to the South Pacific and beyond. Losloper is sailing hard and should finish in with the pack of Class 3 boats.
Featured Sponsor - Aston Kaanapali Shores
Located at the official finish line of the Vic-Maui International Yacht Race, Aston Kaanapali Shores is a convenient option for your pre- and post-race lodging.
Our condominium resort offers fully-equipped kitchens, in-room WiFi, a beachfront restaurant, spa facilities and more. Aston Kaanapali Shores combines the comfort and convenience of spacious suites with hotel-caliber services, directly on beautiful Kaanapali Beach.