Race Documents, Awards Banquet, Waiting Wahine Luncheon, Official Merchandise, Alumni Reunion, Qualifying Races, Featured Sponsor
by Event Committee, May 30th, 2014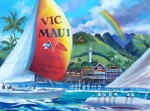 Race Documents Published
More race documents have been published. See the Official Notice Board online at http://www.vicmaui.org/documents for:
2014 Notice of Race Amendment 2 - "ORR Certificates, Time Allowance Review Period, Roll Calls"

2014 Notice to Competitors 2, 2A, 2B ... - "Preliminary Time Allowances, Division and Class Breaks, Start Dates"

2014 Vic-Maui Bulletin 4 - "Vic-Maui Wind Matrix"

Preliminary 2014 ORR Certificates
See the Ratings & Measurement page at http://www.vicmaui.org/ratings-measurement for:
Frequently Asked Questions - FAQ - "ORR and Vic-Maui"
Featured Sponsor - Kingwell Island Art
The original painting above will be auctioned at the 2014 Vic-Maui Awards Banquet in Lahaina on July 26. Prints will also be available.
Maui artist, Jim Kingwell has painted oil and watercolor for over 35 years. His plein air and studio paintings capturing the romantic realism, provide collectors with originals limited-edition fine art prints and posters.
Jim has been painting the colors of Hawaii for many years. Warmth, soft breezes, rainbows, tropical birds; exotic flowers and cultural sensitivity are essential elements to his paintings. When Jim is not painting on location you can most likely find him at his charming art gallery in Lahainatown completing a one-of-a-kind original painting. He often teaches his plein air style of painting in special classes.
Visit the Kingwell Gallery at: 834 Front Street, Lahaina, Maui, HI 96761 Website: http://www.kingwellislandart.com/
See more Vic-Maui Sponsors at the end of this newsletter.
Vic-Maui Awards Banquet
The Vic-Maui Awards Banquet is the closing event of the Vic-Maui International Yacht Race, co-hosted by the Royal Vancouver Yacht Club and the Lahaina Yacht Club. The Awards Banquet will be held Saturday July 26, 2014, starting at 5:30 pm.
Early Bird Pricing • Book Early • Capacity is Limited
Vic-Maui Waiting Wahine Luncheon
Vic-Maui, co-hosted by the Royal Vancouver Yacht Club and the Lahaina Yacht Club, and the Pioneer Inn invite you to attend our traditional Vic-Maui Waiting Wahine luncheon. This event is offered at no charge to you. Everyone from Vic-Maui is welcome - Sailors, Family, Friends and Supporters!
The Waiting Wahine Luncheon will be held in the Garden Couryard at the Pioneer Inn in Lahaina, commencing at 11:30 am on Monday, July 21, 2014. We are planning a wonderful luncheon, preceded by a fashion show put on Serendipity Maui.
We ask that you RSVP to enable us to arrange for the proper amount of food, seating and table arrangements, decorations, etc. Mahalo.
Vic-Maui Official Merchandise
Online sales of Vic-Maui Official Merchandise were launched in April. Orders are shipping - your editor has already received and opened one of the first shipments! There is still time to order for delivery before the race starts in Victoria. Select your team gear from a wide range of products including T-shirts and polo shirts, hats and burgees, fleeces and jackets, waterproof gear bags. Team gear can be customized with the boat's name. We also have in-person shopping for select items at the LYC Ship's Store on Front Street in Lahaina.
Vic-Maui Alumni Reunion 1965-2014
Great fun was had by all on April 10th at the first Vic-Maui Alumni Reunion, held at the Royal Vancouver Yacht Club's main clubhouse. One hundred and forty-nine boisterous sailors attended, representing boats from the earliest races in 1965 and 1968 all the way through the years to the upcoming 2014 race. Like fine wine, we and our stories are all getting better with age ... The winds were stronger, the seas higher, the speeds faster; ah, those were the days, my friend. The Tiki Bar and Mai Tai's were features not to be missed. Several of the Emilies were there, representing the first all-female team. RVYC's very own Vic-Maui veteran Eric Holden sent a congratulatory message from the mid-Pacific, where he was skippering Clipper Challenge entrant Henri Lloyd to another podium finish. Multi-race veterans Dan Sinclair and Vern Burkhardt mingled with fresh 2014 recruits.
Prizes were awarded for Best Photo (Jan Emerton), Best War Story (Bill Cote), Most Races (Dan O'Brien), Youngest Sailor (Bill Cote), Best Outfit (Doris Pacey), and the grand prize of the evening -- a five night stay in a condo at the Outrigger Napili Shores on Maui -- was won by Dwight Jefferson. You had to be there to win! Many thanks to Kimberly Ballantyne and her fantastic committee of Kate Ballantyne, Val Johnson, Barbara Picton and Guy Walters, for entertaining us with hula dancers, great food and drink, and a fabulous collection of slide shows, photo albums, videos and souvenirs from past races.
We look forward to seeing everyone at the next Vic-Maui Alumni Reunion, when we will also be celebrating the 50th anniversary of the race.
Vic-Maui Qualifying Races
Vic-Maui boats sailed this spring in the Southern Straits, Oregon Offshore and Swiftsure races. Each of these races is a Vic-Maui Qualifying Race. A number of boats competed in all three races! Check out the individual race websites at Vic-Maui Qualifying Race for more information and results. And, mark your 2015 calendars now for the next Van Isle 360 race.
* * * * * * * * * *
Hosts
Royal Vancouver Yacht Club • Lahaina Yacht Club
Gold
Greater Victoria Harbour Authority • Navis Marine Insurance • Pacific Yachting • Westerly Yachts
Silver
Azaris Studios • CSR Marine • First Yacht Services • North Sails • Signature Yachts
Supporters
Mount Gay Rum • Hester Creek Estate Winery • Whistler Brewing
Tremewen Art • Kingwell Island Art • Serendipity Maui • West Maui Sail & Canvas • Trilogy Excursions
Victoria Preferred Accommodations
Harbour Towers Hotel • Hotel Grand Pacific • Sandman • Strathcona Hotel
Aston Kaanapali Shores • Outrigger Hotels and Resorts • Pioneer Inn • Sheraton Maui
Southern Straits • Oregon Offshore • Swiftsure • Van Isle 360