Awards Banquet, Signature Yachts, Official Merchandise, Waiting Wahine Luncheon
by Event Committee, April 25th, 2014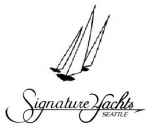 Vic-Maui Awards Banquet - Lahaina - tickets on sale!
The Vic-Maui Awards Banquet is the closing event of the Vic-Maui International Yacht Race, co-hosted by the Royal Vancouver Yacht Club and the Lahaina Yacht Club. The Awards Banquet will be held Saturday July 26, 2014, starting at 5:30 pm.
Be a sail, not an anchor, and get moving now on your ticket purchases. Tickets include admission, live entertainment by the Haiku Hillbillies, a sumptuous banquet and the presentation of Vic-Maui trophies and awards.
Early Bird Pricing • Book Early • Capacity is Limited
Featured sponsor - Signature Yachts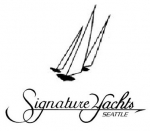 You're Welcome Aboard at Signature Yachts.
When you're in the market to buy or sell a sailing yacht in the Pacific Northwest, we would appreciate the opportunity to serve you. Although we've sold nearly a thousand boats so far, what's far more important is the quality of the buying or selling experience you have as our customer. Our multiple Beneteau Platinum and Island Packet Yachts Golden Wrench Awards will lend you confidence that your purchase, delivery and after sales service experience with us will be a great one! We've enjoyed receiving awards from leading yacht builders in the world recognizing us for superior customer service and these awards are a direct result of customer feedback about your buying experience.
Website: http://www.signature-yachts.com/
See more Vic-Maui Sponsors at the end of this newsletter.
Vic-Maui Official Merchandise now available online!
Vic-Maui Official Merchandise is now available, with online shopping on the Vic-Maui website at Vic-Maui Official Merchandise and in-person shopping at the Lahaina Yacht Club Ship's Store in Lahaina. Select your team gear from a wide range of products including T-shirts and polo shirts, hats and burgees, fleeces and jackets, waterproof gear bags. Team gear can be customized with the boat's name.
Vic-Maui Waiting Wahine Luncheon - Lahaina - RSVP (No Charge!)
Vic-Maui, co-hosted by the Royal Vancouver Yacht Club and the Lahaina Yacht Club, and the Pioneer Inn invite you to attend our traditional Vic-Maui Waiting Wahine luncheon. This event is offered at no charge to you. Everyone from Vic-Maui is welcome - Sailors, Family, Friends and Supporters!
The Waiting Wahine Luncheon will be held in the Garden Couryard at the Pioneer Inn in Lahaina, commencing at 11:30 am on Monday, July 21, 2014. We are planning a wonderful luncheon, preceded by a fashion show put on Serendipity Maui.
We ask that you RSVP to enable us to arrange for the proper amount of food, seating and table arrangements, decorations, etc. Mahalo.
* * * * * * * * * *
Victoria to Maui International Yacht Race
The Victoria to Maui International Yacht Race is hosted by the Royal Vancouver Yacht Club and the Lahaina Yacht Club. First contested in 1965 and sailed every second year since 1968, Vic-Maui is the pinnacle of Pacific Northwest ocean racing. Vic-Maui starts in July off Victoria, British Columbia and finishes near Lahaina, Maui, a distance of approximately 2308 nautical miles.
Vic-Maui challenges navigators to demonstrate their weather routing and navigational skills. Success depends on the navigator's skill in predicting where the Pacific High pressure zone and trade winds will be, nearly a week into the future.
The adventure includes sailing around the Pacific High and surfing downwind in the trades. The days pass quickly with the fleet surrounded by dolphins and albatross, spectacular sunrises, sunsets and brilliant starlit nights.
Teamwork gets the boats to the finish line near Lahaina, where each arriving boat is greeted with an outstanding Hawaiian welcoming party. Family and friends meet the racers to celebrate the accomplishment with hugs, leis and mai-tais. Many crew stay to spend more time enjoying Maui with their families before heading home.
Visit www.vicmaui.org for Challenge - Adventure - Teamwork!
* * * * * * * * * *
Hosts
Royal Vancouver Yacht Club • Lahaina Yacht Club
Gold
Greater Victoria Harbour Authority • Navis Marine Insurance • Pacific Yachting • Westerly Yachts
Silver
Azaris Studios • CSR Marine • First Yacht Services • North Sails • Signature Yachts
Supporters
Tremewen Art • Kingwell Island Art • Serendipity Maui
Victoria Preferred Accommodations
Harbour Towers Hotel • Hotel Grand Pacific • Sandman • Strathcona Hotel
Aston Kaanapali Shores • Outrigger Hotels and Resorts • Pioneer Inn • Sheraton Maui