2014 Fleet Grows; Victoria & Lahaina Preferred Accommodations and Information Bulletins
by Event Committee, December 5th, 2013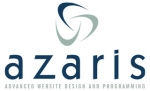 The 2014 Vic-Maui Fleet continues to grow:
Team Kahuna returns to Vic-Maui for the 2014 race! John Leitzinger's team sailed an Express 37 in the 2006 race, and is now sporting a bigger Kahuna, an Aerodyne 38. Team Kahuna has a great sense of humor and we hope that they will publish another Kahuna audio collection to help the fleet laugh all the way to Maui. El Conquistador lives on! Kahuna will sail for Corinthian Yacht Club of Tacoma.
The final entry deadline is February 3, 2014. Check out Kahuna and the rest of the fourteen boats in the 2014 Vic-Maui fleet at http://www.vicmaui.org/teams.

Featured Sponsor: Azaris Studios:
We create professional websites. Our client's sites are stunningly designed, highly functional and fully maintained using our web content management system, Vortex CMS.
We can quickly develop company profile websites; ecommerce sites with real-time payment and shipping integration; subscription-based sites; music and video rich sites; complex dynamic sites; interactive sites; custom databases and scripts; corporate identity and custom designed print media.
If you're looking for a company that will understand what you want and deliver it quickly, we are the right company for you.
Website: http://www.azaris.ca
Victoria and Lahaina Information; Preferred Accommodations:

Vic-Maui teams - race and delivery crews, family and friends - are making their travel plans for July 2014.
Preferred Accommodations are featured on the website, along with Information Bulletins and lots of other useful planning information for Victoria and Lahaina.
Victoria hotels: Harbour Towers, Hotel Grand Pacific, Sandman, Strathcona.
Lahaina hotels: Aston Kaanapali Shores, Sheraton Maui.
See these freshly updated Vic-Maui website pages for the most current information:
Offshore Personal Survival Course (Safety at Sea):
BC Sailing classes (Sail Canada - ISAF Approved):
The next scheduled class is January 24-25, 2014, in Vancouver; this class is already fully booked.
Following that, there is a class planned for April 4-5, 2014 in West Vancouver.
More information and online registration:
http://www.vicmaui.org/bc-sailing-safety-at-sea.
The Sailing Foundation has a Safety at Sea seminar (the two day version is US Sailing - ISAF Approved) planned for February 22-23, 2014 on Bainbridge Island. More information: http://www.thesailingfoundation.org/new_sas_seminars_2014.htm.
Marine First Aid course:
Tentative date is February 1-2, 2014 in Vancouver. Details to follow as soon as they become available.
Vic-Maui Qualifying Races:
Vic-Maui boats and crews often do overnight distance races or passages as part of their Vic-Maui preparations. The 2014 sailing season is just around the corner.

Vic-Maui Qualifying Races are:
Vic-Maui is on Facebook!
Please visit us and "like" us at https://www.facebook.com/pages/Vic-Maui-International-Yacht-Race/315028561904036