2014 Vic-Maui Notice of Race
by Technical Committee, April 3rd, 2013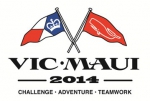 The Notice of Race has been published for the 2014 Vic-Maui race.
Some key points to note:
introduction of an early entry discount: up to September 30, 2013
race entry deadline: February 3, 2014
formal adoption of objective third party ratings: US Sailing's Offshore Racing Rule (ORR) with Vic-Maui weather matrix
communications technology updates, including a flexibility option for boats to use either an SSB radio or satellite phones
increase in crew Safety at Sea training requirement from 30% to 50% ISAF-approved
continuation of the cruising division that was introduced in 2012
availability of a double-handed class
The Vic-Maui course record is 9 days, 2 hours, 8 minutes and 27 seconds. This line honors elapsed time record has stood since being set in 2000 by Grand Illusion, a Santa Cruz 70 sailing for the Lahaina Yacht Club and skippered by James McDowell. Records are made to be broken!
[Click here for the 2014 Vic-Maui Notice of Race] and [click here for the Online Entry System].