Day 10 - Coffee Grinding and Cookie Crumbling
by Race Committee, July 10th, 2018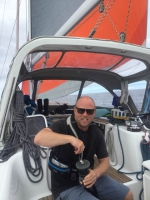 Day 10 finds the boats doing everything to eek out a mile and get closer to the promised trade winds. At one time this morning, the three leading boats were all pointed to Baja, doing 1 kt with an ETA sometime this fall. This is giving time for boats like Turnagain to get lots of practice on their big-boat "coffee grinders". As the Weather Eye said this morning "the cookie will crumble based on hard work, skill, and luck". The only boat making good progress is Serenite - Cruising Class is allowed to use their engine to move along.
Still leading the way in Firefly, now with 804 miles to go and a slightly bigger lead over Joy Ride 27 miles behind. Following behind (Distance to Leader) are Salient +73, Kraken +144, Turnagain +145, Anjo +205, Serenite +226 (believed to be motoring some), and Oxomoxo +253.
After a night of going no-where, it finally looks like the lead boats in Racing 1 have finally found a bit of wind and are starting to move.
In Racing 2, Kraken has found the same breeze and has moved in front of Turnagain. Salient is still ahead by a bit, but they are holding their breath waiting for the breeze to catch up with them. But every hour, Kraken closes a bit more. Oxomoxo and Anjo are waiting out the calms, with Oxomoxo having time for a turtle rescue (pictures to follow).
TODAY'S FEATURED SPONSOR:
Navis Marine Insurance
Welcome to Navis Marine Insurance Brokers, a Speciality Insurance Brokerage dedicated to providing protection and insurance coverage for the unique needs of marine related clientele.
With over 20 years of experience, we take pride in offering our clients specialized insurance packages and policies that help them protect their assets and their businesses. Our brokers have relevant experience that applies to the safeguard of you and your vessel including: building related risk management solutions, recreational watercraft insurance, complex marine operations and high-level knowledge of legal statutes including the Marine Liability Act and the Canada Shipping Act and more. In addition to our professional experience we offer our clients personal and intimate knowledge of the industry including: experience aboard commercial vessels, race management, serving as Commodore of a yachting club, marine search and rescue, extensive experience with pleasure crafts and recreational boating and involvement in marina construction. Being personally involved in sailing, marine activity and boating gives us a critical edge in understanding our clients' needs and ultimately protecting the assets and businesses they have worked so hard to build.
Website: http://www.navismarine.ca/