Another Busy Night
by Race Committee, July 21st, 2014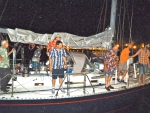 Starting at 8:45 pm HST on Sunday night, Kinetic, Passepartout and Family Affair all finished within 45 minutes of each other. With 9 boats finishing in the last 24 hours, the LYC Welcome Committee, the Greeting Parties, the Race Committee, and most important, Ed the Pioneer Inn Mai Tai mixer are extremely tired. But everybody has a day off to attend the Waiting Wahine Lunch as Avalon, Losloper and Bedlam II are not expected until Tuesday.
The last 24 hours were a trial for our Sunday night finishers, as it was for Alegria and Turicum. There was broken gear and lots of tired sailors as the "super squall" that was the remnant of Tropical Depression Wali hit these boats hard early on Sunday morning. It was a day that offerred a real test of seamanship and provided all the crews with the full experience of ocean racing - storm force winds in the morning to a frustrating dying breeze at the finishing lines - and a chance to use all of the remaining sails in the inventory.
And with these 3 boats finishing together, Vic-Maui flooded over the Pioneer Inn bar and restaurant for a "super welcome party" to match the "super squall". It was certainly the wildest Sunday night party on Front Street in a while.