String Theory Brings it Home
by Race Committee, July 20th, 2014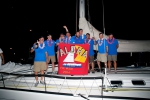 String Theory finished at 10:25 pm HST on Saturday night. In doing so, she did not quite close the gap on Longboard for First Overall, but did maintain her lead over New Haven and should end up in 2nd Place Overall and winner of Division 2.
John Mortimer's String Theory is a Beneteau First 47.7 hailing from the Vancouver Rowing Club. After the drama of Kahuna's dismasting, it was anti-climatic to hear from John and navigator Gunnar Jonnson that they didn't break anything, did not rip any spinnakers and just sailed a good race. But the real drama was their decision to follow Turnagain, Passepartout and Turicum over the top of the Pacific High on July 10, just 5 days into the race.
It was a big risk, as in past years that strategy has presented itself, but it has never worked out well. But this year it did. John and crew drove the boat hard under jib and at time looked to be sailing to Guam. But as they had predicted (or hoped), the wind backed to the east and strengthened allowing them to keep up good speed and point directly to Maui; sailing a shorter course and without having to gybe across the top of Maui. It certainly worked out for them.