Team Profiles - Salient (2016)
Profile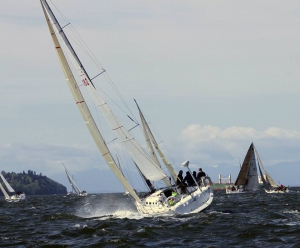 Type: Beneteau First 40.7
Skipper: Brad Marchant
Class: Racing, Fully Crewed
Hailing Port: Vancouver, BC, Canada
Hull Colour: White
LOA: 39.25'
Beam: 12.33'
Draft: 7.75'
Yacht Club: West Vancouver Yacht Club
Designer: Bruce Farr
Builder: Beneteau
Rig: Sloop, Fractional
Sail Number: 52082
Website: http://www.firstyachts.com/
Status: Entered c

Salient is a Beneteau First 40.7 from West Vancouver Yacht Club. Skipper Brad Marchant and the technical team at First Yachts Services Inc. have been assisting many Vic-Maui participants in preparing their boats for this fantastic race for over a decade, and as such are inspired to get in on the action for this epic Half Century event!
Salient will have aboard an international team of passionate sailors including one of Maui's own, Bo McKuin, who is looking forward to sailing into his home port in July 2016. Salient and her crew hope to inspire other Beneteau First 40.7 owners to a fleet race to Maui!
Let the winds fill in. Safe travels, everyone.
"Twenty years from now you will be more disappointed by the things you didn't do than by the things you did do. So throw off the bowlines, sail away from the safe harbour and catch the Trade Winds in your sails." Mark Twain