Team Profiles - Alegria (2014)
Profile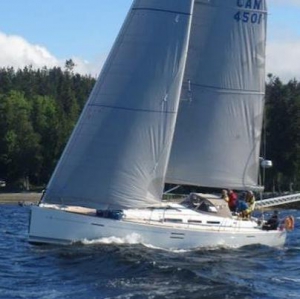 Type: Dufour 45e
Skipper: Colin Jackson
Class: Racing, Fully Crewed
Hailing Port: Vancouver, BC, Canada
Hull Colour: White
LOA: 45'9"
Beam: 14'1"
Draft: 7'7"
Yacht Club: Royal Vancouver Yacht Club
Designer: Umberto Felci / Patrick Roséo
Builder: Dufour
Launch Date: 2013
Rig: Sloop
Sail Number: 4501
Website: http://cooperboating.com/alegria/
Status: ZZ-2014 Alegria

"Alegria X" (Spanish for "Happiness"), was brought to Canada to introduce sailors to top level sailing courses on a modern platform. Owner Eberhard Heinzemann (also RVYC) and skipper Colin Jackson have collaborated on various boating & instructional projects over the years and sailing lessons aboard this boat have already seen trips in 2013 circumnavigating Vancouver Island and off to Barkley Sound and back. Colin & his wife Genny took Eberhard's former boat on their honeymoon years ago.
Colin is returning to offshore racing after an 18 year break following three consecutive Vic-Maui races as crew, watch captain then navigator. Colin's father Barrie Jackson, another passionate instructor, passed away suddenly shortly after the 1996 race and Colin then focused energy on the family business and growing a family ~ pushing back his desire to race back to Maui – until 2014! Because his father wanted to join Colin on the 4th sailing, something of Barrie's will be carried aboard to the finish.
The entire crew is drawn from members of the Cooper Boating family of yacht owners, students and crew.