Team Profiles - Big Ben (2012)
Profile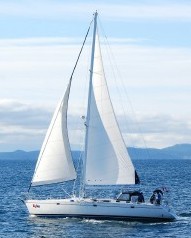 Type: Beneteau 50
Skipper: Jim McLauchlan
Class: Cruising Division
Handicap Ranking: 12
Time Allowance: 120
Hailing Port: Oak Bay, BC
Hull Colour: White
LOA: 50.25'
Beam: 15.667'
Draft: 6'
Yacht Club: Turkey Head Sailing Association
Designer: Philippe Briand
Builder: Beneteau S.A.
Launch Date: 1991
Rig: Sloop
Sail Number: 74440
Website: http://www.oakbaysailingschool.com
Status: ZZ-2012

The Beneteau Oceanis 500 "Big Ben" is being sailed by a crew from the Oak Bay Sailing School's cruising club. Big Ben has had a chequered career as a charter yacht in various parts if the world. More recently, having been retired from charter "he" was donated to the Sail and Life Training Society (S.A.L.T.S.) as a contribution towards their excellent youth programs, and the drive to build a new schooner. Big Ben was comprehensively refurbished by SALTS before being acquired by Oak Bay Sailing School, whose mission is to provide offshore cruising training opportunities for adults.
Big Ben is entered in the cruising section of the Vic-Maui, and is being campaigned by a mixed crew of experienced offshore sailors and relative newcomers. The Skipper, Jim McLauchlan, has been racing and cruising offshore around Europe for more years than he cares to remember, and has the able support of First Mate Tony Roberts and watch leaders Keith James and Murray Sampson.
Big Ben will require a reworked sail inventory to become really competitive, but the spirit is readily apparent in the crew!
OBSS and the crew are really appreciative of the untiring efforts of the Vic-Maui committee, and are proud to be a part of this challenging event. Navigo ergo sum!