Team Profiles - Warlock (2020)
Profile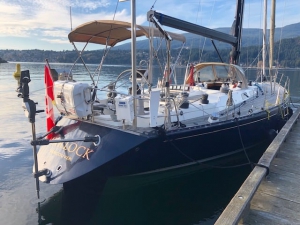 Type: Baltic 51 CB
Skipper: John Garfitt
Class: Racing Class, Fully Crewed
Hailing Port: Vancouver, BC, Canada
Hull Colour: Blue
LOA: 50.92
Beam: 15.25
Draft: 6.0
Designer: C&C Design
Builder: Baltic Yachts
Rig: Sloop, masthead
Status: 1m entered

John Garfitt is a mechanical engineer and executive who has returned, in retirement, to what he loves most: sailing. He is currently the Technical Director of Quality Assurance at ISPA,and also a senior Instructor Evaluator.
John has 27 years of single-handed sailing and sailing instruction experience and 75,000 nm under the keel. He brings professional marine engineering experience and wisdom to the table. He is also an artist in paint media.
John's current vessel, S/V Warlock, which he bought with the intent to sail around the world, is a 1982 Marconi-rigged Baltic 51 centreboard cutter built in Jakobstad, Finland. Having purchased the yacht in September, 2018, and changing the name to "WARLOCK," the boat spent the past year in refit to make it one of the best-equipped, high-performance ocean racer/cruisers on the West Coast. With four cabins and 2 cockpits, Warlock can accommodate 6 – 8 crew in comfort and safety.
John is offering ISPA Yachtmaster Ocean International Certificate of Competency on the 2020 Vic-Maui race (6 positions) and on the return voyage (6 positions) later in the summer of 2020. PS: Aboard WARLOCK, we all report to Wiggle.