Team Profiles - Thundorca (2020)
Profile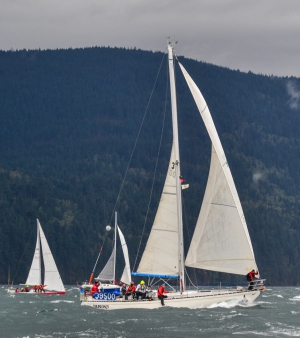 Type: Tartan 41
Skipper: Scott Kanlyn
Class: Cruising class
Hailing Port: Seattle, WA, USA
Hull Colour: White
LOA: 40.63
Beam: 12.25
Draft: 6.80
Yacht Club: Seattle Yacht Club
Designer: Sparkman & Stephens
Builder: Tartan Marine
Rig: Sloop, masthead
Sail Number: USA 39500
Status: 1j entered

Quick rundown on Tartan 41 Thundorca; she was actually a starter in the 1978 Vic Maui as "Thunder" not a finisher, however. She has been in the PNW since. Scott Kanlyn has heard rumors of a mutiny regarding peaches.

We've done 6 Swiftsures, we're a Round the County veteran, a few Northern Centuries, and all the Duck Dodges down here in Seattle (Ultimate Beer Can Race).

Best way to describe us crew is we are here to have a good time. We love sailing and having fun. Complete not Compete is the motto. She is an old boat and has always gotten us home. Known to have more beer than anyone else.

We are racing in honor of one of our crew members who passed away this last spring. And Seattle Yacht Club is our club.