Team Profiles - Unfinished Business
Profile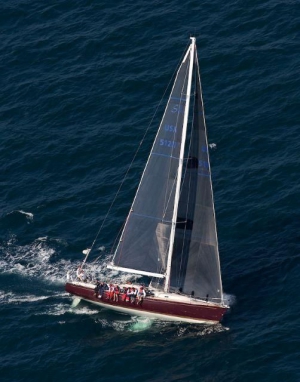 Type: Santa Cruz 52
Skipper: Colin Jackson
Class: Racing Class, Fully Crewed
Hailing Port: Vancouver, BC, Canada
Yacht Club: Royal Vancouver Yacht Club
Sail Number: TBD
Status: 1k entered

Story of "Unfinished Business" - so far
We've all got some 'Unfinished Business'.
Our crew bands together a collection of veterans and specialists on our direct course to the looney bin.
Erik is aboard to show us all how it's done. Part of 'Joy Ride' in 2018, Erik found the secret sauce that lands the team atop the podium. Experienced winner - check.
We needed a medical expert and doctor Brenda (Doctor Mom) specializes in kids. We are all immature, so that's a go. She'd like to get there well ahead of her other half Andrew on Phoenix. - welcome aboard!
First on our Alberta lineup is Tony. Known for sailing in all weather and bringing enthusiasm and some computer / weather wizardry - it took minutes to conclude 'I don't need to know all this guy knows - I just need him on the team.'
Tony reached out to his buddy Chris - a bunch of ocean races in addition to the San Juan 21 experience (the inspired cousin of Colin's Cal 20's). In addition to a few Vic Mauis (one without steering), Chris managed two Transpacs on a Hobie 33. With thousands of miles and a bucket with padded seat, we've told Chris that 'two heads are better than none.'
Good team shaping up - in came Bruce from Canmore and the ability to spot the boat. We started with the plans to use the same boat as last time. Optimism of a faster passed switched to a Santa Cruz 52 tied nearby. That morphed to a red one initially spotted in Puerto Vallarta and now secured for our team in San Diego. Bruce's racing experience is currently sparring with the sistership of his cruising boat, but he was right there for the sea trial in San Diego and we've now tossed him in the deep end.
2022 marks Colin's 5th Vic Maui and the thirtieth anniversary since his first. Not shy to get people aboard who know more in many areas,
We're rounding out this team with a couple more who shall ensure the mission of laughing all the way to Maui is on course.
The selling broker for the boat was Bill Lee (the wizard himself) and we bought the boat from George Bailey (It really is a Wonderful Life). We had to move a mountain this week with the thousand pounds of sails and gear that came with the boat. The fighter jets were lighting their afterburners and giving a show as we worked away. Exhausted, the security guard at the San Diego Yacht Club let us park our Beverly Hillbilly Sailing Caravan behind the tennis courts overnight!
Yes, there's some unfinished business - not the least of which is this story.