Team Profiles - CrossFire (2016)
Profile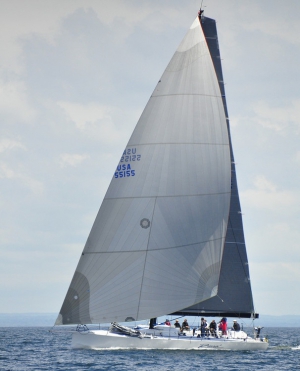 Type: Reichel/Pugh 55
Skipper: Lou Bianco
Class: Racing, Fully Crewed
Hailing Port: Seattle, WA, USA
Hull Colour: White
LOA: 55.25'
Beam: 14.67'
Draft: 13.0'
Yacht Club: Sloop Tavern Yacht Club
Designer: Reichel/Pugh
Builder: McConaghy Yachts
Launch Date: 2007
Rig: Sloop, Fractional
Sail Number: 55155
Status: Entered l

CrossFire is Reichel-Pugh designed and McConaghy built custom race boat from Seattle, sailing under the Sloop Tavern Yacht Club burgee.
The design brief for CrossFire (ex Rima2) called for a boat that was capable of competing against the TP52's inshore buoy racing, yet strong enough to handle the most grueling offshore events. CrossFire features a high stability keel and bulb; over 50% ballast/displacement ratio. The high modulus carbon rig and composite C6 rigging adds greatly to the stability of this design.
The 2016 Vic-Maui will be CrossFire's first offshore event on the West Coast, having come from East Coast in the summer of 2015. The crew has many offshore events under their belts on the prior boat, and are very excited about supporting a local tradition celebrating it's Half Century.