LYC Strong
by RVYC Vic-Maui Event Chair, October 21st, 2023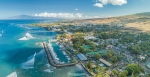 All of us at RVYC and on the Vic-Maui team are deeply saddened by the news of the Lahaina-Maui wildfires. We have reached out to our contacts in Lahaina, including the Commodore of the Lahaina Yacht Club and members of the Vic-Maui team, to offer our support and condolences. At this time, we do not know the severity of the situation on the ground, but we will continue to update as appropriate.
Our focus and our hearts are with our friends in Lahaina during this incredibly difficult time and our community stands ready to support of the people of Maui.
Please feel free to reach out with questions and concerns to the Lahaina Yacht Club Emergency email.