Roll Call August 14 & Won't Be Long Now
by Charlotte Gann & Race Committee, August 14th, 2022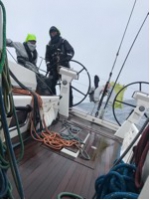 In the next 48 hours, much of the fleet will be approaching or in the Strait of Juan de Fuca (except Millennium Seagull & Planet Express), slithering their way toward their respective harbours. When they touch land, please take the time to reach out to these now-seasoned mariners to greet them home, give them a poke to ensure they're really here, and congratulate them on the wild journey they've just experienced.
The winds of the North Pacific in the past few weeks have been unpredictably twisted. Not outrageously high velocity but the directions have been unusual. With this La Nina going on much longer than is typical, seems it's had an effect on wind direction as well as the Pacific High not holding it's course.
All are well, enjoying the challenge, all boats are up to the job and, now that there are no 'racing rules' just rules of the road (known as ColRegs), Otto/Auto/Wattson or whatever name has presented itself, has been the overnight driver while crew nestled into their down filled bunks with silken sheets and pre-fluffed pillows, complete with a Belgian chocolate before slumber.
Phoenix, never one to brag, has been on starboard since Hawaii. Red Sheilla is in a fair bit of brisk lump, sailing is bumpy. Xiomara looks to be making for harbour this morning. Amun-Ra says seas are settling down after the previous night of wild winds at 25+ kts. Millennium Seagull's in a completely separate ocean where they had a swim, then a spin run, then a knockdown – yeesh, too little, just right, TOO MUCH. Planet Express went under a passing cold front with attendant big & twisted seas then popped out the other side into sunshine. Outbreak, like the rest of the fleet, has been sloshing through confused seas.
Roll Call for Maui Vic Boats on August 13
| | | | | | |
| --- | --- | --- | --- | --- | --- |
| DATE | 22-08-13 | | | | |
| | Latitude | Longitude | TWS | TWD | Atm Press |
| | Deg-Min | Deg-Min | kts | Deg | millibar |
| Phoenix | 48-45 | 132-23 | 20 | 272 | 1013 |
| Red Sheilla | 48-27 | 132-27 | 20 | 150 | 1015 |
| Xiomara | 48-16 | 125-59 | 5 | 200 | 1024 |
| Amun-Ra | 49-07 | 133-24 | 17 | 167 | 1009 |
| Millennium Seagull | 35-40 | 151-21 | 22 | 225 | 1024 |
| Planet Express | 38-32 | 146-26 | 5 | 105 | 1021 |
| Flow | 48-11 | 135-34 | | | |
| New Haven | In Honolulu | | | | |
| Annie M | In Honolulu | | | | |
| Outbreak | 47-46 | 137-55 | 12 | 280 | 1015 |