Roll Call August 6 & The Delivery Fishing Derby Has Begun In Earnest
by Charlotte Gann & Race Committee, August 6th, 2022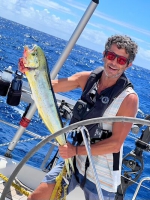 Wind and seas are now settling for all, mostly off the nose, the bigger sails are coming out to play, and the fishing derby is now ON.
Food – this and water are the basics for human survival. So when the possibility of free fresh food delivered straight to your plate from the ocean is there, the focus is on eating really, really well. Today's menu serves up mahi mahi fish tacos, the boats are pulling up to the window for their orders.
Phoenix and Flow are in sight of each other (via AIS), both have their fishing lines out, Flow's Andrea has caught a 3 kg mahi mahi, Phoenix's crew have caught two so far. What do you do with the second ultrafresh fish – why, turn it into marinated sashimi to have as a poke appetizer. Planet Express, not to be left behind, has also landed a mahi mahi and have their Code 0 sail up, sniffing out the wind – seems the romping winds others have been gobbling up have burped and left little in their wake. Which is better – a bit too much wind or not quite enough? Sailing – the sport of madmen...
Is everybody happy? - Red Sheilla says yes, perfect, thank you for the flat seas and 9 knots of wind. Amun-Ra likes the flat seas too.
Sadly, Flow has no idea how fast they are going - their wind instrument decided in the big winds and seas of the last several days that enough was enough and has gone on strike.
Roll Call for Maui Vic Boats on August 6
| | | | | | |
| --- | --- | --- | --- | --- | --- |
| DATE | 22-08-06 | | | | |
| | Latitude | Longitude | TWS | TWD | Atm Press |
| | Deg-Min | Deg-Min | kts | Deg | millibar |
| Phoenix | 38-10 | 156-08 | 16 | 060 | |
| Red Sheilla | 43-36 | 157-47 | 9 | 130 | 1029 |
| Xiomara | 42-20 | 149-51 | 13 | 085 | 1031 |
| Amun-Ra | 43-33 | 153-05 | 6 | 134 | 1028 |
| Millennium Seagull | 21-17 | 157-51 | 4 | 071 | 1019 |
| Planet Express | 27-07 | 158-11 | 7 | 140 | 1019 |
| Flow | 38-10 | 156-14 | 14 | 090 | 1026 |
| New Haven | In Honolulu | | | | |
| Annie M | In Honolulu | | | | |
| Outbreak | | | | | |