Follow the Yellow Brick Home... Because, because, because, because, because
by Charlotte Gann & Race Committee, July 29th, 2022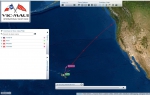 There are 4 Vic-Maui (make that 5) boats that have engaged the use of the YB Tracker devices and will regularly transmit their positions. At present, only Xiomara is enroute, the others are anticipated to make their start homeward shortly.
To follow Flow, Phoenix, Xiomara, and Annie M on their homeward journey, grab this link: https://cf.yb.tl/vicmauireturn22 or if you have an Android device, download the YB Tracker application and add the race 'Vic - Maui Return 2022'. As of August 2nd, New Haven began her homeward journey with a YB Tracker aboard.
Others in the 2022 fleet are making their way back to the Pacific Northwest at varying times. The daily Roll Call will continue.