July 23 Roll Call Plus Catching up a little
by Charlotte Gann & Race Committee, July 24th, 2022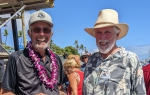 What with the Awards Banquet yesterday, a bit tardy on bringing the fleet status up to date – apologies but the party was fun (only slightly sore head this morning).
This morning, Millennium Seagull rolled into Old Maui, Lahaina. Fantastic to have her here and she's rolled into the Lahaina Yacht Club now. Certainly she'll celebrate her finish in fine fashion. While here, the clearance through US Customs will also take place. It really cannot be understated how incredible this is – to sit with the US Customs & Border Patrol with a Mai Tai firmly gripped while smoothly and efficiently having the entire crew clear customs – and it's all down to Lahaina Yacht Club's Jan Nolan and her incredible organizational skills and preparation when she comes to Victoria. This is a remarkable arrangement you will not experience anywhere else in the world. Kudos Jan – you are amazing.
Annie M is deeply enjoying her last day or so at sea, with the Perseids in sight, along with Saturn, Venus, Jupiter, Mars and the moon, plus lovely dawns. The visibility of so many planets at once is a little unusual and so a great treat.
New Haven now has less than 400 nm to go at time of writing (July 24 noon HST). The race deadline is Tuesday, July 26 at 1000 HST. Will she make it? We're all rooting for her but it will be tight.
The two fellows in the cover photo have many decades of Vic-Maui races between them. Guy Walters (R) shared his many Vic-Maui race experiences in the 2022 Vic-Maui Program and Vern Burkhardt (L) has now completed his 13th Vic-Maui Race and will embark tomorrow on his 13th Maui-Vic delivery aboard Phoenix.
Roll Call July 23 (plus one) at noon HST from the fleet:
DATE

22-07-23

Latitude

Longitude

TWS

TWD

Atm Press

Deg-Min

Deg-Min

kts

Deg

millibar

Peligroso

Finished July 16 at 06:06

Phoenix

Finished July 20 at 03:17

Lurline

Retired

Red Sheilla

Finished July 22 at 13:03

Xiomara

Finished July 22 at 13:02

Amun-Ra

Finished July 21 at 20:54

Millennium Seagull

Finished July 24 at 09:08

Planet Express

Finished July 22 at 13:18

Flow

Finished July 22 at 23:38

New Haven

25-22

148-39

13

050

1022

Annie M

24-06

152-33

14

080

1020

Outbreak

Finished July 22 at 18:20