July 21 Roll Call & She's a Nail-Biter
by Charlotte Gann & Race Committee, July 21st, 2022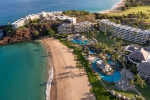 There's that nervous energy in the air as you close in on the Finish Line. Is it really just about over? We're just getting the hang of it. That feeling in the dying days of summer when you realize it won't go on forever – that's what the fleet is feeling right now. Savouring every last ounce of wind pressure, telling the last of the unlikely tall tales you've been sharing with each other. Just one more Happy Hour with the entire crew before everyone scatters like mice in a wheat bin (that's for Xiomara).
Red Sheilla is making the call – their ETA is 2 PM Friday. Man, that's precise, gotta give credit to the chief naviguesser and skipper Jim – he's as precise with his boat as he was flying jetliners.
Oh dear – It's really good we'll see Amun-Ra by nightfall tonight. The privy went kaput, became an explosive device and they have it fixed but – um – would you want to be the next one to put it to the test? Anyway, they'll be ashore and darned happy about it. The heat will be behind them and the dreamed-of Mai Tais straight ahead.
Food is apparently boooringgg on Millennium Seagull. Would flying squid and crabs be a good option now? Not to brag (yeah sure) but Planet Express is making ice with their solar-maker and are celebrating by dropping the cubes down each other's backs. New Haven is still fishing – for compliments? Will share fish for jokes... Did I ever tell you that one about the 'T' that wouldn't sit down?
Annie M, Annie M – I can't see Kansas from here but - good squalls, bad squalls, you know they've had their share – but when the woman left home with a (finish the song with us – and thanks for the ear worm). Annie M is doing fine but squalls are getting monotonous, you can tell by their choice of music.
In the next 30 hours, we could see 5 boats tucking into the Lahaina Small Boat Harbor – gosh Lars Bertelsen and Ian Ponting will be tightly packing the sardines in water.
And – on to other important matters everyone wants to know; the Awards Banquet on Saturday, July 23 is at the Sheraton Maui Resort & Spa on the Ocean Lawn, 2605 Kaanapali Parkway (northernmost end of the road). It's from 1130 AM to 1400 PM (2 PM to landlubbers). Includes banquet, music and of course THE AWARDS! Bar is no host. Dress is 'Vintage Hawaiian' or your Vic-Maui Team Gear. The Black Rock is sacred to the Hawaiian people – souls would leap from this physical world into the spirit world. It's a beautiful beach which Awards Banquet guest may access. More details: https://www.vicmaui.org/awardsbanquet
Roll Call July 21 at noon HST from the fleet;
DATE

22-07-21

Latitude

Longitude

TWS

TWD

Atm Press

Deg-Min

Deg-Min

kts

Deg

millibar

Peligroso

Finished July 16 at 06:06

Phoenix

Finished July 20 at 03:17

Lurline

No Report

Red Sheilla

22-22

153-38

18

075

1020

Xiomara

22-40

153-42

18

080

1020

Amun-Ra

21-03

155-47

17

082

1018

Millennium Seagull

23-42

149-23

15

085

1010

Planet Express

22-11

153-37

14

063

1021

Flow

22-23

152-28

15

063

1021

New Haven

27-03

144-50

10

042

1022

Annie M

27-45

147-47

15

115

1022

Outbreak

23-39

154-45

17

082

1020