July 20 Roll Call & Oscar Brand says Drinks All Around
by Charlotte Gann & Race Committee, July 20th, 2022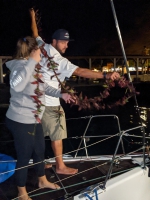 Gord Wylie's XP 44, Phoenix, came alongside the docks at Lahaina a tad after 4 AM today and by 10 AM he and the crew and loved ones were together at the Lahaina Yacht Club, enjoying a meal and stories together.
Meanwhile, Jan Nolan of Lahaina Yacht Club worked with the US Customs and Border Patrol to get the crew and boat cleared into the USA. All was smooth as silk. As well, Rochelle Mendoza distributed to crew their tickets for the Saturday Awards Banquet, which is proving to be super popular – tickets are now hard to acquire. Patti Link has been working with the local media, successfully getting the race profiled – we are all mindful this is the first time the Vic-Maui International Yacht Race has been run since 2018 and there's an air of excitement at so many skilful yacht racers being in town.
Amun-Ra is super keen to get into the mai tais and chill for a bit – the sailing is great but the heat is not.
Lurline, who retired a few days ago, is pushing hard, heading for Maui! Owner/Skipper Gib Black's daughter, Kayleigh (please forgive if the spelling is mangled) is keen to see her dad, as are we – Gib's a lovely fellow.
Xiomara, apparently having brought the Canadian wheatfields with them, was heard saying they can almost see the barn door. Ummm, hard to imagine a barn sailing into Lahaina but Xiomara's offering up drinks for all so let's 'see' that barn too.
Food & Fishing. Millennium Seagull has been dragging the line but the fish aren't biting. Flow – what glory, found a bag of apples and oranges – not a scurvy one among this lot. New Haven has gone fishing so mahi mahi will accompany the sundowners today. Planet Express has lots of energy (solar charger's generating 13A). They're adding hot sauce to everything in the hope it makes the heat onboard seem less so. Hey, it works in Vegas – on a hot day, go into the hot tub and then the air feels cool when you get out – give it a try...
Annie M had great sailing last night but this morning the winds have become really shifty (you know, like that guy in the overcoat and fedora pulled low). They'll scoot through this soon enough
Outbreak still has a jammed mainsail furler that may have to wait until their arrival.
Red Sheilla is vewy, vewy quiet – trying to sneak past the fleet...
Up in the skies – the Perseid meteor shower began on the 18th and will intensify through August. The fleet has front row seats if the skies are clear any time from dusk through dawn. Prepare to be amazed.
This just in! Race Committee needs us all to know something rather important: the correct information is to be shared widely - MAI TAI SHAKE recipe is 1.5 oz Mt Gay Eclipse, .5 oz fresh lime juice, .5 oz Triple Sec, .5 oz Orgeat together with ice. Strain into a glass and float .75 oz of Goslings Black Sea on top. That is all..
Roll Call July 20 at noon HST from the fleet:
DATE

22-07-20

Latitude

Longitude

TWS

TWD

Atm Press

Deg-Min

Deg-Min

kts

Deg

millibar

Peligroso

Finished July 16 at 06:06

Phoenix

Finished July 20 at 03:17

Lurline

22-46

148-31

15

070

1020

Red Sheilla

24-04

151-02

17

070

1021

Xiomara

23-15

151-13

17

070

1022

Amun-Ra

22-39

153-23

19

071

1018

Millennium Seagull

24-56

147-23

15

080

1011

Planet Express

23-29

150-51

17

080

1022

Flow

23-15

149-18

17

083

1022

New Haven

27-64

142-28

9

042

1023

Annie M

28-43

146-00

13

090

1023

Outbreak

25-44

153-09

13

084

1022