July 16 Roll Call & Line Honors Go To...
by Charlotte Gann & Race Committee, July 16th, 2022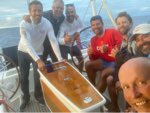 This morning at 06:06:19, Peligroso crossed the finish line and the YB Tracker geofence captured the moment. Two boats from the Lahaina Yacht Club, piloted by Lahaina YC Vic-Maui Chair Lars Bertelsen and Sailing Director Ian Ponting, were on hand to safely guide Peligroso to a mooring at Lahaina and bring the happy and hungry crew ashore where they proceeded to the Lahaina Yacht Club to celebrate with wonderful puupuus and beverages. The gracious Peligroso owner, boat captain, and crew answered many questions, stood for photos, accepted a multitude of congratulations, thanked their hosts for the terrific hospitality, and cleared customs (thanks to LYC Member Jan Nolan's amazing pre-organization) in the space of a couple of hours. The crew are variously staying, leaving to fly back home in California, or stepping back aboard to drive Peligroso to Oahu today where she'll pick up her delivery crew. Apparently the adventure continued right to the finish line with Peligroso dodging fishing nets, flying fish, and hot, hot heat.
The trophy for First to Finish will be presented on July 23 at the Awards Banquet.
Conditions in the Pacific are mostly looking up. Although New Haven reports TWS of 5 knots, they're moving along well (but the keyboard 'T' still bedevils). Amun-Ra is seeking their inner Jimmy Buffett with surf, sun, and rock music. Only thing needed is margaritas to complete the picture but this'll have to wait until Lahaina. Planet Express is in a passing line of squalls and the reported 21 knots of wind speed does not reflect average conditions. Flow says it's wonderful to be sailing near Planet Express who sent out their drone to capture Flow under sail – we'll have to wait for the images, though.
Food – Lurline had a line on a mahi mahi but it shook the hook when they were landing the fish. No fish fry today. Annie M caught another tuna but for some reason has decided on hot dogs for lunch today – guess they're hankering for SPAM and hot dogs will have to do until they get to Lahaina. BTW, what's YOUR favourite SPAM flavour? Macadamia nut SPAM sounds mighty interesting.
Outbreak seems to be in a movie set of Avatar and are trying to outrun the blue blob. Stay tuned, there may be more on this later.
Red Sheilla and Xiomara are having quiet moments of contemplation. We know they're out there – Red Sheilla provided proof in today's cover photo.
Roll Call July 16 at noon HST from the fleet:
| | | | | | |
| --- | --- | --- | --- | --- | --- |
| DATE | 22-07-16 | | | | |
| | Latitude | Longitude | TWS | TWD | Atm Press |
| | Deg-Min | Deg-Min | kts | Deg | millibar |
| Peligroso | | | | | |
| Phoenix | 27-26 | 145-47 | 13 | 038 | 1024 |
| Lurline | 29-11 | 138-35 | 10 | 030 | 1024 |
| Red Sheilla | 28-12 | 139-56 | 14 | 050 | 1025 |
| Xiomara | no report | | | | |
| Amun-Ra | 27-39 | 144-27 | 14 | 065 | 1023 |
| Millennium Seagull | 28-58 | 138-25 | 11 | 075 | 1016 |
| Planet Express | 28-01 | 139-39 | 21 | 048 | 1026 |
| Flow | 28-05 | 139-37 | 13 | 060 | 1026 |
| New Haven | 32-32 | 135-55 | 5 | 020 | 1025 |
| Annie M | 34-18 | 138-00 | 10 | 245 | 1025 |
| Outbreak | 31-11 | 146-07 | 8 | 035 | 1026 |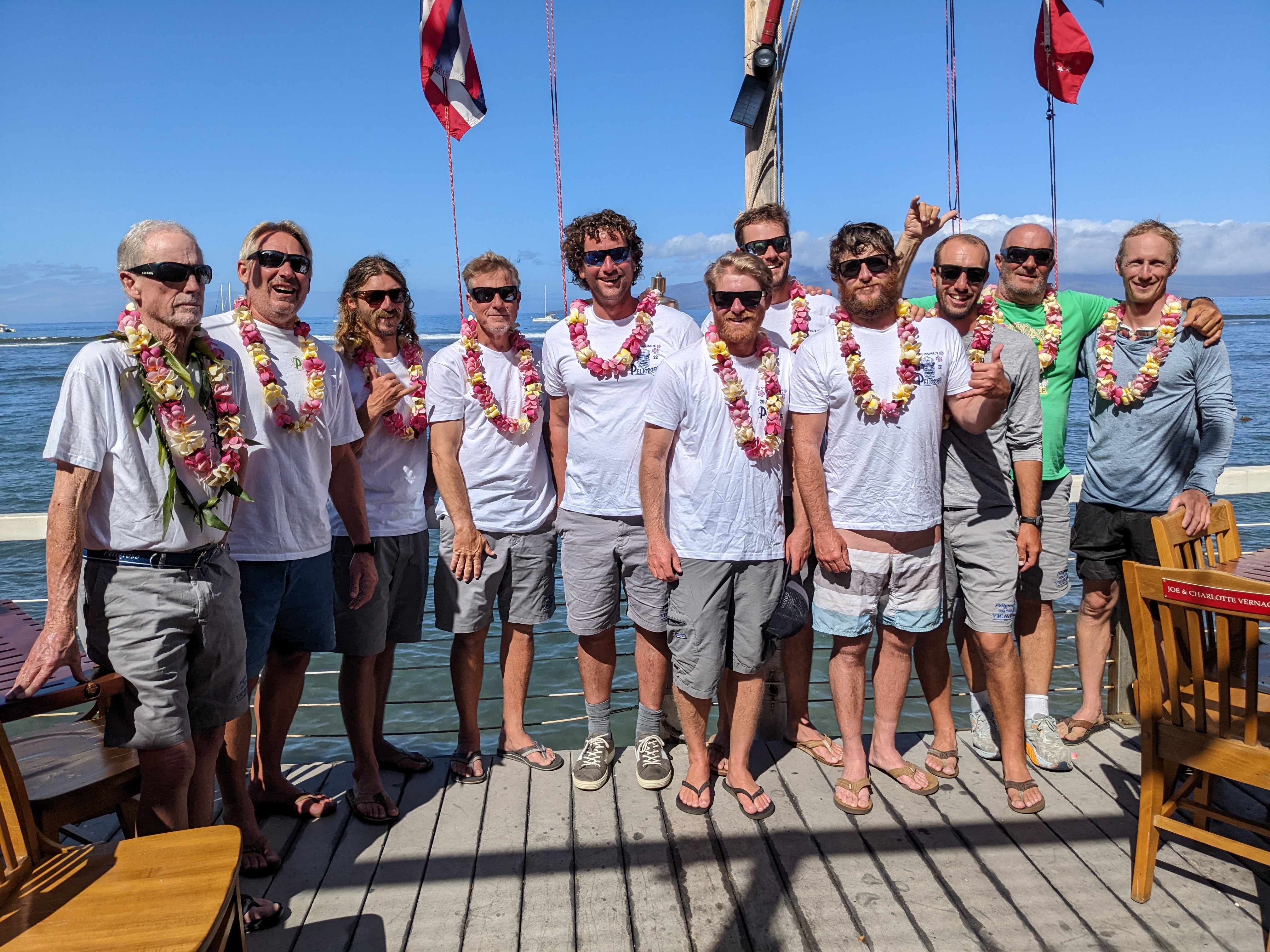 The crew of Peligroso celebrate their First to Finish win at Lahaina Yacht Club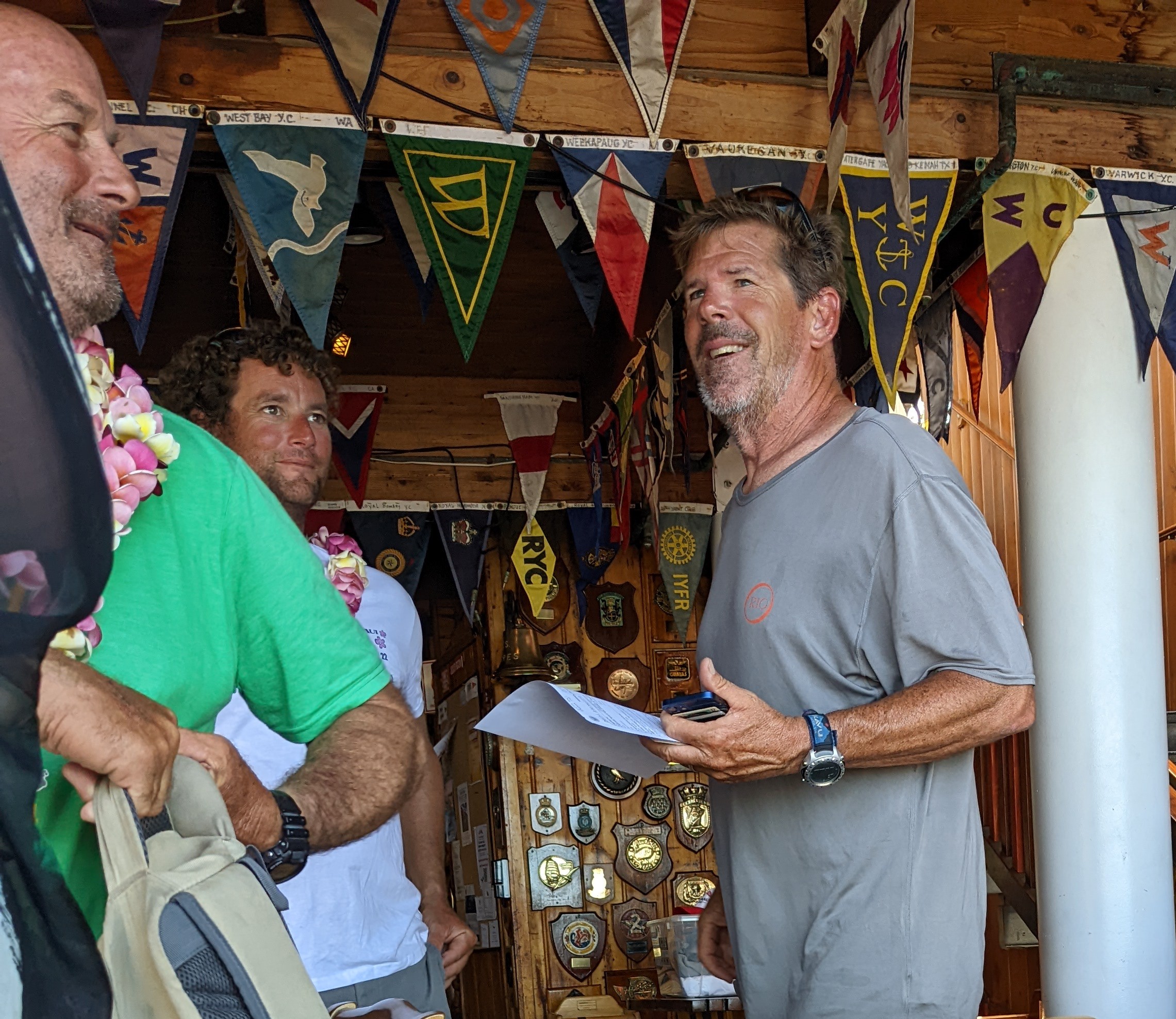 Peligroso's Boat Captain Keith Kilpatrick celebrated for a few moments