July 15 Roll Call & The Worst Kept Secret...
by Charlotte Gann & Race Committee, July 15th, 2022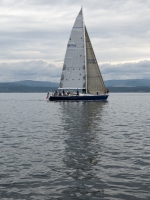 Due to time constraints, Lurline has retired from the race and turned on her motor to get out of the limited winds/pressure of the Pacific High. Lurline sincerely regrets having to withdraw from the 2022 Vic-Maui International Yacht Race. Crew and skipper are all very disappointed, and thank the Vic-Maui race management, and wish all competitors the very best and god speed. Lurline is thankful for the wonderful welcome in beautiful Victoria and for the friendships formed. Boat and crew will head for Lahaina to celebrate with the rest of the fleet.
Throughout the fleet, winds have varied in the last 24 hours from pretty much non-existent for Lurline, Millennium Seagull, and Outbreak, to a high of around 16 kts for Peligroso.
On Phoenix, the decks are hot and the flying fish, which are getting bigger, are doing their own version of fried fish al fresco – but the crew aren't keen to sample. Xiomara is loving this new wind, the sun and warmth. Amun-Ra was contentedly sailing along with a Pac Cup boat, Cali, when out of nowhere Amun-Ra's spinnaker blew up. Quick takedown, new chute up, and away we go again.
Food – & beer. Aboard, it's all shorts, t-shirts, some half way parties, and checking the food – there's lots, but this may determine how much tuna and, soon, mahi mahi, to keep. Outbreak is the first to report their mahi mahi catch which they're preparing for dinner tonight. Annie M is having a fridge cleaning & food inventory day. Planet Express celebrated the half way party with cake and beer, the party food of champions... Planet Express and Flow (who also celebrated the half way) sailed alongside each other and chatted over VHF for a bit before getting back to focusing on competing with each other; the two are in the same division.
New Haven – maybe you can hear their muttering – gall dang this hated keyboard – wonder if Sesame Street could do an edition on the letter 'T'. Otherwise, all's well with personnel aboard, the boat's doing well, the BBQ is doing well.
Tropical Storm Darby is weakening well south of the Big Island, and forecast to be a remnant by Saturday.
Right – that worst-kept secret is Peligroso looks like she'll finish within ~24 hours!
Roll Call July 15 at noon HST from the fleet:
| | | | | | |
| --- | --- | --- | --- | --- | --- |
| DATE | 22-07-15 | | | | |
| | Latitude | Longitude | TWS | TWD | Atm Press |
| | Deg-Min | Deg-Min | kts | Deg | millibar |
| Peligroso | 24-44 | 152-55 | 16 | 075 | 1021 |
| Phoenix | 29-42 | 143-21 | 12 | 036 | 1025 |
| Lurline | 31-03 | 137-59 | 4 | 100 | 1026 |
| Red Sheilla | 30-27 | 138-45 | 14 | 050 | 1026 |
| Xiomara | 28-58 | 139-28 | 15 | 070 | 1026 |
| Amun-Ra | 29-59 | 143-24 | 14 | 054 | 1025 |
| Millennium Seagull | 30-48 | 137-55 | 8 | 065 | 1016 |
| Planet Express | 30-02 | 138-00 | 15 | 024 | 1026 |
| Flow | 30-02 | 137-59 | 12 | 045 | 1027 |
| New Haven | 33-48 | 135-07 | 5 | 358 | 1025 |
| Annie M | 35-18 | 136-59 | 10 | 305 | 1025 |
| Outbreak | 32-24 | 144-56 | 9 | 059 | 1027 |