July 13 Roll Call & Today's Photo Winner
by Charlotte Gann & Race Committee, July 13th, 2022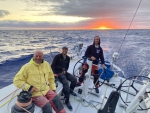 The YB Tracker now shows results in HST. Most boats are sailing more slowly today, the result of the Pacific High having moved eastward near them. Many are running south to get away from near-zero winds at the high's centre. Peligroso has blasted pretty much beyond the reach of the lobe and continues to plough ahead, seeing lots of rope, fishing balls, and trash. New Haven had snagged a fishing net and managed to cut it away – this kind of mess really slows them down.
Annie M is collecting container ships. Today there were 4 that passed close by as she waits for the cold front to move on.
Food... Phoenix is running low on chips, and didn't get any more kamikaze squid. Outbreak's international fishing derby continues with a blue fin, yellow fin, and bloody fin tuna (not so sure about that last one.)
Fixes... Amun-Ra fixed the main outhaul, and they're now having water pump issues – always something to work on. Millennium Seagull lost a spin halyard, so decided to take a dip while retrieving. Fresh as daisies now. Flow decided the crew funk was no longer funny, the entire crew took showers. More fresh daisies.
Hurricane Darby is at 15.4N, 136.7W and is forecast to be a remnant at 16.5N, 152.9W by Friday PM
Roll Call July 13 at noon HST from the fleet:
| | | | | | |
| --- | --- | --- | --- | --- | --- |
| DATE | 22-07-13 | | | | |
| | Latitude | Longitude | TWS | TWD | Atm Press |
| | Deg-Min | Deg-Min | kts | Deg | millibar |
| Peligroso | 29-42 | 145-32 | 15 | 045 | 1026 |
| Phoenix | 32-57 | 138-27 | 8 | 035 | 1025 |
| Lurline | 34-16 | 136-29 | 5 | 010 | 1004 |
| Red Sheilla | 33-11 | 136-51 | 12 | 040 | 1025 |
| Xiomara | 33-11 | 137-15 | 12 | 030 | 1026 |
| Amun-Ra | 34-15 | 141-05 | 5 | 040 | 1025 |
| Millenium Seagull | 33-58 | 136-37 | 5 | 060 | 1016 |
| Planet Express | 33-29 | 135-46 | 15 | 045 | 1025 |
| Flow | 33-13 | 136-24 | 10 | 264 | 1026 |
| New Haven | 35-48 | 134-43 | 11 | 018 | 1025 |
| Annie M | 37-47 | 135-11 | 8 | 325 | 1024 |
| Outbreak | 35-37 | 142-10 | 4 | 301 | 1025 |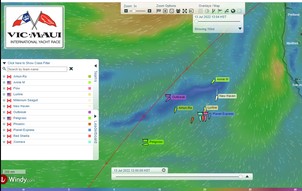 Windy.com shows centre of the high at 1 PM July 13 HST