July 11 Roll Call & The OxoMoxo Trophy
by Charlotte Gann & Race Committee, July 11th, 2022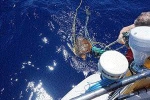 We're coming into a full moon soon – the Buck Moon, so named because this is about the time a buck's antlers emerge. Today had great winds of up to 30 knots. Peligroso saw a moonbow last night – a refraction of suspended ice crystals or water droplets like a rainbow.
All are experiencing wonderful spinnaker sailing and surfing, the winds promised in the brochure. Annie M had a wet and wild ride after a busy night – they've reported the 30 kt winds, most others are seeing high teens, low 20s. Planet Express pulled out their Winnebago to test her surfing capabilities. Flow has had fantastic spinnaker sailing and surfing today after a challenging night of sailing in mist and clouds. New Haven thinks the trades must be closer – navigator is seasick, a well-known bellwether for mariners... Red Sheilla is having the sailing she likes most.
Amun-Ra has had alternating squalls and sunshine, like the ones Millennium Seagull experienced yesterday.
Outbreak is thinking about swapping condiments for fuel – wasabi or soy sauce for diesel. Seemingly they've used most of the latter and have lots of the former to share – quelle surprise.
The YB Tracker issue noted this morning between Peligroso & Phoenix are now resolved.
Hurricane Darby is well southwest of Cabo San Lucas, currently at 14.7N 125.0W moving WNW - not presently on a trajectory with the fleet.
Four years ago yesterday, the yacht OxoMoxo, while racing in the Vic-Maui Race, encountered a turtle entangled in fishing net. Rather than sail on knowing the turtle would drown, they dropped the spinnaker, sailed back, stopped the boat, freed the turtle and removed the net from the water. This is the origin for The OxoMoxo Trophy for Outstanding Environmental Stewardship by demonstrating the best environmental practices, only awarded when warranted. The full 2018 story:: https://www.vicmaui.org/index.php?articleid=720
Roll Call July 11 at noon HST from the fleet:
DATE

22-07-11

Latitude

Longitude

TWS

TWD

Atm Press

Deg-Min

Deg-Min

kts

Deg

millibar

Peligroso

Apr-34

136-12

12

10

1026

Phoenix

37-14

132-03

13

252

1023

Lurline

no report received

Red Sheilla

37-40

132-29

22

350

1024

Xiomara

36-52

132-22

19

300

1025

Amun-Ra

36-47

135-21

15

13

1025

Millenium Seagull

no report received

Planet Express

37-58

131-56

21

355

1023

Flow

37-26

132-20

18

359

1024

New Haven

39-38

131-30

21

335

1023

Annie M

40-29

130-00

30

350

1021

Outbreak

Feb-37

136-28

14

52

1026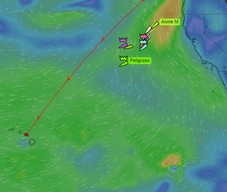 YB Tracker 2 PM HST July 11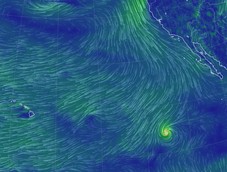 The winds in the racing area 2 PM HST July 11