Vic-Maui Boats Compete In Patos Island Race
by Event Committee, April 8th, 2022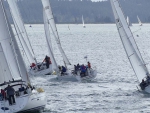 Four Vic-Maui boats participated on April 2nd and 3rd in the first local long distance race of 2022, Patos Island Race hosted by the Sidney North Saanich Yacht Club. Red Sheilla, skippered by Vic-Maui Event Chair Jim Innes, Planet Express, skippered by Adam Serediuk, and Jason Saunderson's Ultraman III competed in the Long course with their crews. Xiomara, skippered by Aidan Walters, did the Short Course, taking 2nd place for their Division.
The two courses in the race, Long (with 25 boats) and Short (with 20 boats), were challenging. Both took competitors around Patos Island, north of Orcas Island. The Long Course started off the Sidney waterfront (great viewing for spectators and photographers) and sent the fleet south to round a mark at Beaumont Shoals near Discovery Island, then northward to Boundary Passage, to round Patos Island either way before boats made their way back to Sidney, keeping Moresby Island to port. The Short Course was similar to the Long Course, without the Beaumont Shoals leg.
Patos Island Race - Short and Long Courses

| | |
| --- | --- |
| | |
Saturday's race start times were a civilized 1100 and 1110 for the Long and Short races, respectively. Some of the challenges; boats sailed south of the Pender Islands through notoriously scrambled currents at the convergence of the Georgia and Haro Straits; they could encounter freighters making their way to Vancouver, around Turn Point on Stuart Island. The sailboats crossed into USA waters; the Race Committee made a special arrangement with the CBP to ensure racers could sail their course without risk of being boarded.
There were fine Southwesterly winds of about 10-12 knots and boats in both courses had clean starts. As the long course boats sailed southward, the winds became soft after rounding Beaumont Shoals, and didn't fill in consistently for the remainder of the race, but the currents were mostly helpful and both Courses continued to be sailed through the night. The hoped-for finish before midnight didn't materialize but the night was dry, and crews well prepared with their winter underwear and foulies.
This was a fantastic return to overnight racing. Vic-Maui crews are eager to get into their race groove. The next opportunity comes very soon with West Vancouver Yacht Club's annual Southern Straits Race through the Easter weekend. This will be very exciting – it's an Official Qualifying Race for competitors of the Vic-Maui International Yacht Race. Xiomara, Red Sheilla, Planet Express, Phoenix, and Ultraman III will race the Long Course, while Millennium Seagull, ELAN, and New Haven will race the Medium Course.