A Busy Fall Schedule
by Event Committee, November 16th, 2021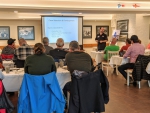 A busy fall schedule with the resumption of in-person classroom seminars and training events.
At the Offshore Preparation Seminar for Vic-Maui, 13 teams were represented and made the trek through classic Vancouver rain (read dump/downpour), traveling from as far away as Victoria (Planet Express), Calgary (Xiomara) and crossing the US/Canada border coming from Edmonds, WA (Ultreia).Present were skippers/ crew of Amun-Ra, ELAN, Flow, Lurline, Millennium Seagull, New Haven, Outbreak, Planet Express , Tianti, Ultraman III, Ultreia, Xiomara, and Red Sheilla of course. During the cocktail hour, the teams chatted together.Many thanks to Jim Innes, Rich Ballantyne, Gaylean Sutcliffe, and Christof Marti for organizing. Thanks to the many teams present - you learned so much and brought great questions.
The first Offshore Personal Survival course in 2 years returned October 30 and 31, followed by courses November 20 and 21.
Further courses including OPS, Routing & Marine Weather and Offshore Medical are planned for the the fall and winter. Please check
Vic-Maui Events and Logistics
webpage for updates.