Record Breaker?
by Event Committee, October 4th, 2021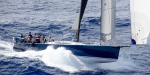 Courtesy of Transpac 2021 website; https://transpacyc.com/race-info/yacht-details/2021-race-info/peligroso
Peligroso skipper Doug Baker has to be one of the more loyal participants in Transpac Race history, having competed in 19 races as a skipper and twice as a crew. There will be few in the 2021 fleet that have that impressive level of long term dedication to this race.
In the 50th edition in 2019, Baker and many of his team members were part of the Chubasco crew that sailed the renovated 1939 S&S yawl to Diamond Head. This was a vessel very different from Baker's usual preference for high speed sloops… he does after all hold the existing course record of 11 days 10 hours 13 minutes and 18 seconds in the Transpacific YC's other classic ocean race: the LA – Tahiti Race. Baker's Alan Andrews-designed Magnitude 80 set this goalpost in 2008, and being over a decade old now this record time is alluring for more modern designs to come have a try at breaking it, possibly in next year's running of the race postponed from last year.
In 2019 Baker re-entered the world of fast monohull sailing by purchasing the 2005-built Kernan 68 Peligroso, and in July will start Transpac with a team of 12 that includes Baker, navigator Ernie Richau, and an impressive list of Pacific ocean racing talent: Keith Kilpatrick, Tim Kernan, Bill Durant, Dustin Durant, Jimmy Slaughter, Juggy Coulgher, Doug Mclean, Mike Pentecost, and Mike Van Dyke.
The team plans to race to Cabo San Lucas from Newport Beach in March as their qualifier, as well as the SoCal 300 in May, with the goal of being competitive and having solid results in all races.
@transpac